STUDENT SUCCESS
Student Innovator: Lindsey Montileaux Mabbutt
Published March 2016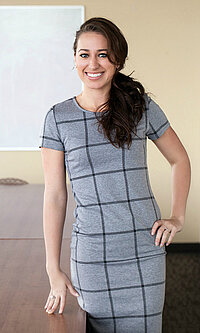 Master of Public Health student Lindsey Montileaux Mabbutt is among 13 NDSU students selected to participate in the Clinton Global Initiative University in Berkeley, California.
The initiative challenges college students to address social issues with practical, innovative solutions. Each participant develops a new, specific and measurable plan to address to societal need they have identified. Only about 1,000 students around the country are invited to the conference.
Program: First-year Master of Public Health student specializing in American Indian Public Health
Hometown: Tea, South Dakota
Her project: Her project is developing a website to help American Indian/Alaska Native students apply for scholarships. The site will help students navigate the financial aid process and find resources targeted toward American Indians and Alaska Natives.
Effect on society: Many American Indian/Alaska Natives face the challenges of being first-generation university students. She hopes to reach and help thousands of those potential students. "It is my dream that this website will increase our representation in not only the science, technology, engineering and math fields, but in all aspects of higher education."
Next steps: She plans to network with students at the Clinton Global Initiative University and further develop her idea. Upon graduation, she plans to "dedicate my professional career to working toward obtaining health equity."