INNOVATION
Student Innovators: Bonnie Cobb and Joseph Kallenbach

Published June 2016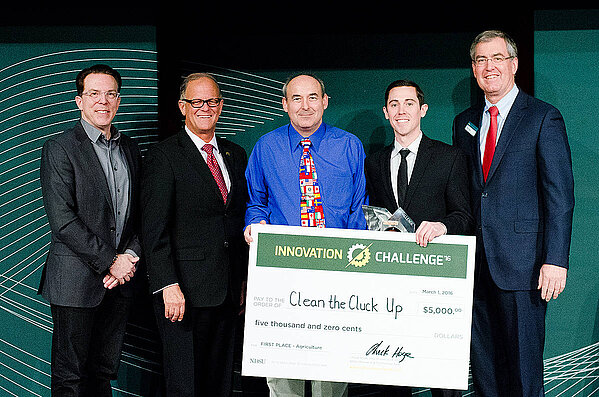 NDSU graduate students Bonnie Cobb and Joseph Kallenbach won first place in the Agriculture category at this year's Innovation Challenge.
The competition is open to all NDSU undergraduate and graduate students and features four categories: Agriculture, Products, Services or Social Impact. Students are empowered to think, create and present their innovative ideas.
Program
Cobb: agriculture and biosystems engineering
Kallenbach: cereal science
Hometown
Cobb: Omaha, Nebraska
Kallenbach: Dickinson, North Dakota
The project: "Clean the Cluck Up" is a process that could de-color corn gluten meal.
Effect on society: "The corn industry is a huge part of North Dakota's economy, so we hope that our innovation can help the state by diversifying sources of revenue from corn," Kallenbach said. "Providing food companies with a new source of natural colorant can make it easier to meet consumer needs in that area and potentially result in health benefits for consumers."
Next steps: "Joe and I are graduating in the summer, so we are looking to pass on our knowledge to another graduate student who will develop the idea further and do more lab-scale testing to solidify the ideas," Cobb said.