EXPERIENCE NDSU
Students get experience working with international clients
Published November 2018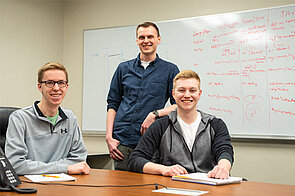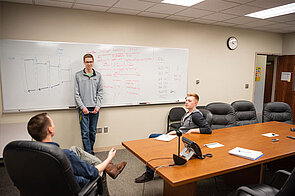 NDSU's International Capstone Exchange allows students to gain real-world experience by working with clients from other countries on projects that could be implemented by one of the program's industry partners.
In more than a decade, the exchange has sponsored projects in computer science, electrical engineering, mechanical engineering, agricultural and biosystems engineering, marketing and journalism. Corporate exchange partners have been from Australia, Columbia, Germany, Netherlands, New Zealand, Sweden, Romania and Qatar.
NDSU student teams work from campus on projects with their international corporate sponsor via Skype and teleconference technology. They conduct weekly meetings, present progress reports, address requests and concerns and work toward achieving the sponsor company's project goals.
"I think the International Capstone Exchange is great for getting actual work experience," said Matthew Olson, a computer science major whose capstone team worked with a company in Australia. "A class project is theoretical in nature. This is an actual client who wants and actual program or process, and you have to work to complete it for them. It's also looks great on a resume that you've worked with an international client."
Visit NDSU and learn more about opportunities to get real-world experience.