STUDENT FOCUSED
Summer class hits the bike trails to explore local geology
Published August 2017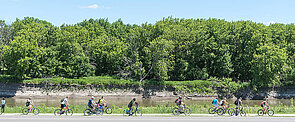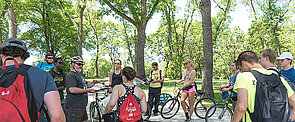 A small class size and perfect summer weather gives Ken Lepper a chance to offer his physical geology class a unique hands-on learning experience.
For the last five summers, Lepper has taken his students on a bike ride near and along the Red River to discover the geology of Fargo. Everything that's been taught in the classroom is reinforced as students see the river and geologic formations along its path.
"If you just go out the door, there is geology that you can participate in," Lepper said. "In summer, we have that opportunity. The bike ride enhances the students' learning so much."
The ride packs a lot of information into two hours.
Lepper uses a 1959 map of Fargo to show how frequent flooding of the Red River has changed the look of the city. He stops sporadically, pulls out the map, points to the group's current location and talks about the geology of the area. The class discusses river processes and the challenges of building around Fargo-Moorhead.
Students ask questions, Lepper answers. Then everyone pedals, single file, along the rolling hills of the bike path.
Lepper stops his bike near a large meadow overlooking Elephant Park in north Fargo.
"Is this part of Fargo's flood management strategy?" a student asks.
Lepper replies with discussion of the city's 2009 flood, and how the event brought more green spaces in flood-prone areas to hold overflowing water and minimize damage.
"You need context to really understand things," Lepper said. "Going out, riding along the river and looking at the features in real life helps students create that context of what we're talking about in class. They are getting to actually see the things we've discussed."
Participants used roller blades and skateboards during the first two years of the tour. However, Lepper said Fargo's Bike Share program has made things easier by giving everyone on campus access to a bike. The program has several bikes available on campus for much of the year.
Students keep a journal during the four-week course. They write about how the class helped them gain insight about geology. They present the journal as a final class project.
Response to the ride has been overwhelmingly positive.
"The bike ride truly showed me that earth science is all around you in your own backyard," said Aaron Lamb, a senior majoring in strategic communication. "You do not have to visit extreme examples of geology on far away points on our globe, or read about it in periodicals like 'National Geographic' to get the point. I'll never look at Fargo the same way because of this bike ride."
"Students really love the ride," said Lepper, whose class meets two hours each weekday for four weeks. "It's not just because it's a day outside of the classroom. They long for that connection between what they can actually see and what we've been learning about. The ride reinforces that so much more."