STUDENT SUCCESS
University Innovation Fellow: David Syverson
Published December 2016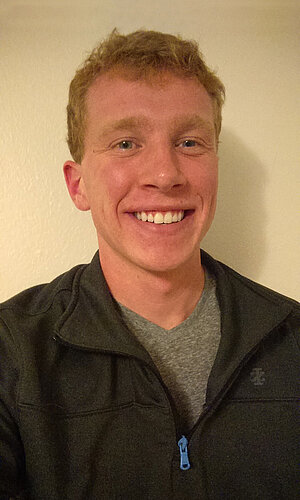 NDSU junior David Syverson is one of three NDSU students to be selected in the most-recent cohort of University Innovation Fellows. The national program is designed to empower student leaders to increase campus engagement with innovation, entrepreneurship, creativity and design thinking.
Syverson, along with NDSU mechanical engineering majors Lydia Gregersen and Samantha Schultz, are among 169 students from 49 institutions in four countries to be selected in the latest group of fellows. The program is run by Stanford University's Hasso Plattner Institute of Design.
Hometown: Hastings, Minnesota
Major: Food science and food safety
What is your reaction to being selected?
I was really excited when I was nominated. Now that I am done with all the applications and six weeks of training, I am once again excited, but also relieved. I can now focus on some of the projects the team is trying to tackle.
What does being named a fellow mean to you?
To me, being named a fellow isn't as big of a deal as being able to learn from them. I think this organization, as a whole, is extremely knowledgeable. This is just the start.
Do you have an innovation project in mind for NDSU?
I am taking the lead on a project called Stackable Credentials. This aims to give students who learn material outside of their classes the ability to get it on their transcript as a credential. We want to help give students credit where it is due.
Basically, if a student learns something from a professor, they can then have the professor test them on it. If they pass the test, they get a credential on their transcript. With this, we hope to entice students to learn, not just their field of study, but others, too. For instance, if an engineer learns how to work in a microbiology lab, they can get a credential.
How will you be a catalyst for change and spark innovation?
The hardest and most important way to promote innovation is for people to be active in it. Individually, I encourage students to be more active in activities such as the Innovation Challenge. As a group, we try to recruit students for a club called Innovation Corps, which is a fantastic way to get students more involved in innovation and entrepreneurship around campus.
What do you hope to accomplish in your role as a fellow?
As a fellow, I hope to learn as much as possible from other fellows from different schools to bring a different perspective to NDSU. So many fellows have great ideas. We just need to help get it started.
What are your career goals?
My goal for my food science career is to work research and development for a fortune 500 company. I want to be able to create something people use in their everyday lives.
In March 2017, Syverson, Gregersen and Schultz can participate in the Silicon Valley Meetup, where they will participate in experiential workshops and exercises.