2018: Twenty-four seniors • Fifteen wins, zero losses • One amazing season
SEVEN FCS NATIONAL CHAMPIONSHIPS IN EIGHT YEARS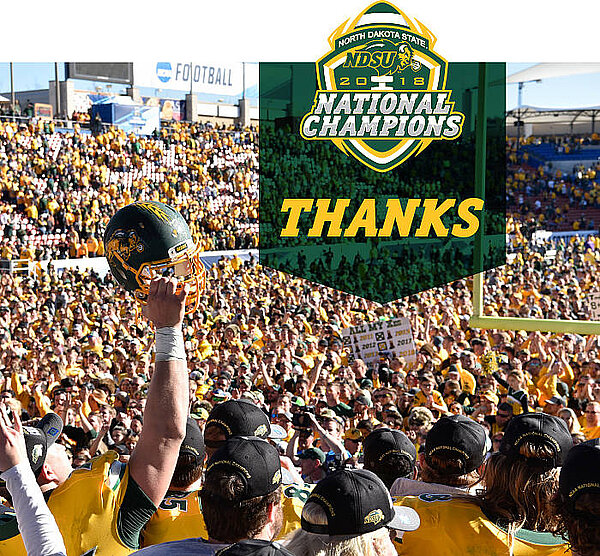 Thank you to our players, coaches and loyal fans for another great season and an incredible national championship experience!
Inside the Ride
Click for a day-by-day recap 
of the players' experience of national championship week.



Congratulations 2018 winter graduates!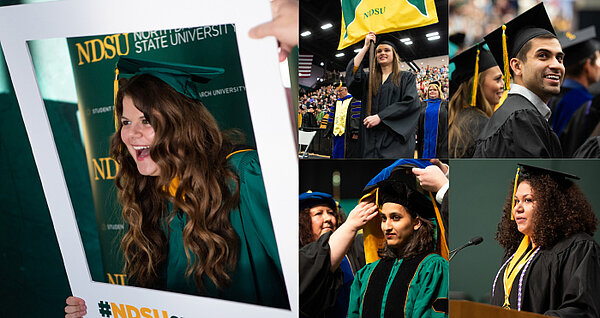 More than 700 of 1,089 eligible students participated in NDSU's winter commencement ceremony in December. Graduating senior Aurora Obembe addressed her classmates and the audience. The Fargo native earned her Bachelor of Science in nursing, with a minor in geological sciences.
---
Engineering alumnus Spencer Duin receives honorary doctorate
Spencer Duin received an honorary doctorate at NDSU's winter commencement in recognition of his leadership in the electrical industry.

"Mr. Duin represents the best of what we hope for in a graduate of NDSU," said nominator Michael Kessler, dean and professor of engineering. "Mr. Duin is a role model for our students, a man who used his degree to build an exceptional career."
read more >

NDSU School of Nursing 
listed among top in nation
NDSU's School of Nursing in Fargo, together with NDSU Nursing at Sanford Health in Bismarck, was named one of the nation's top nursing programs by NursingSchoolsAlmanac.com. The report listed NDSU nursing as number eight overall in the Plains region, 40th among public nursing schools and 78th among the more than 3,000 nursing schools in the country.
read more >
NDSU offers new precision ag major
The use of new and emerging technology is transforming the agriculture industry, and NDSU is now offering a new program so students can stay at the front edge of the curve.
Precision agriculture is revolutionizing how producers go about their business. Technology is commonplace on today's farms and ranches through the use of drones and sensors that collect highly-detailed information about crops and livestock. They use Global Positioning System data 
to pinpoint herbicide or insecticide applications.
read more >

| | | |
| --- | --- | --- |
| | | |
| Submit a Class Note and catch up on the accomplishments of other NDSU graduates. | Know a prospective student? Encourage a campus visit to see all NDSU has to offer. | Learn, participate and share — stay connected to NDSU through social media. |