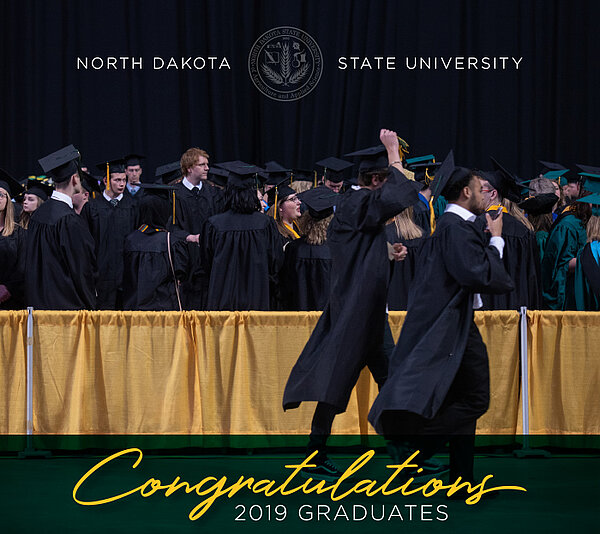 More than 1,400 students participated in NDSU's spring commencement on May 11. Marisa Pacella and Sydney Dale were the class representatives chosen to speak during the ceremonies at the Fargodome.

Dale, who earned her Bachelor of Science degrees in marketing and global business in just three years, said "I believe that by being kind and generous, having grit, being humble and having a strong work ethic and integrity are ways to leave a footprint. I also hope that my classmates recognize that being a Bison and representing NDSU is truly special."
For photos and videos of commencement, visit the NDSU Facebook page.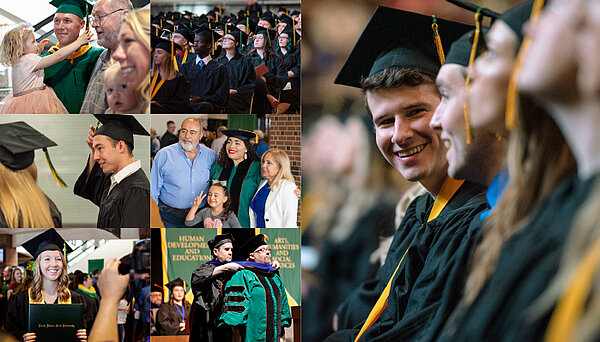 NDSU graduates first medical diagnostic sonography class
The first-ever NDSU graduating class in medical diagnostic sonography is 100 percent employed and achieved 100 percent pass rates on their national board exams. The program is the only one of its kind in North Dakota in a partnership with NDSU and Sanford Health. read more >

NDSU student named Truman Scholar
William Fleck, a senior majoring in computer science, has been selected as a 2019 Truman Scholar. The award is considered one of the most prestigious scholarships in the United States. He is among 62 Truman Scholars selected for 2019. The new scholars are scheduled to receive their awards during a ceremony at the Harry S. Truman Presidential Library and Museum on Sunday, May 26, in Independence, Missouri. read more >

Softball team headed to NCAA tournament
Summit League champion NDSU is scheduled to face No. 7-seed Minnesota at 8:30 p.m. on Friday, May 17, in the second game of the NCAA Minneapolis Regional at Minnesota's Jane Sage Cowles Stadium. The team is making its 10th trip to the NCAA tournament over the past 11 years. The Bison are 10-18 in eight previous trips and 6-10 over the past five seasons.

NDSU track and field dominates Summit League
The NDSU women's track and field team extended its nation-best outdoor conference championship streak to 12, claiming another Summit League team title May 10. Counting its 12-straight indoor team championships, the Bison women have now won 24 consecutive Summit League team titles. The women also won eight individual event titles at the meet. The men's track and field team claimed its 10th consecutive Summit League outdoor team championship and its 11th in 12 years and won seven individual event titles at the championships.

Otterdahl wins big in field events
Payton Otterdahl broke the all-time collegiate indoor shot put record at the Summit League championships in February and went on to win the NCAA Division I national championship in the shot put and weight throw. In May, he was named the Field MVP of the Summit League outdoor championships after victories in the shot put and discus.

| | | |
| --- | --- | --- |
| | | |
| Submit a Class Note and catch up on the accomplishments of other NDSU graduates. | Know a prospective student? Encourage a campus visit to see all NDSU has to offer. | Learn, participate and share — stay connected to NDSU through social media. |