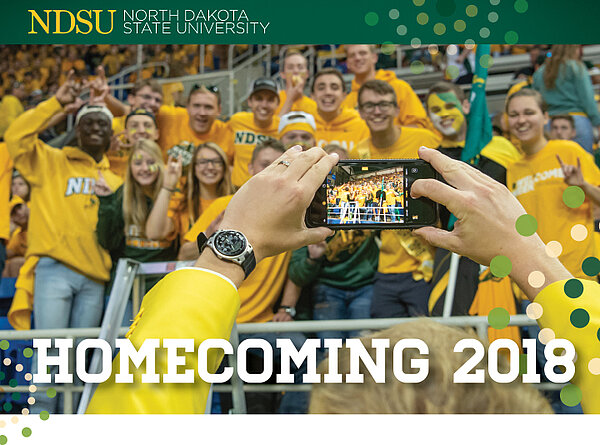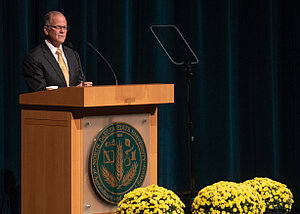 President Bresciani optimistic about NDSU's future
NDSU President Dean L. Bresciani presented an upbeat message during his ninth State of the University Address on Sept. 21. While acknowledging challenges faced by the university, he said there are many reasons to be optimistic. "Education and the creation of new knowledge transforms the lives of our students; fuels our economy; enriches the quality of life in our state; and tackles the challenges of health and happiness for the citizens we serve. If that isn't a mission to believe in, I don't know what is," he said. Read or watch the speech here >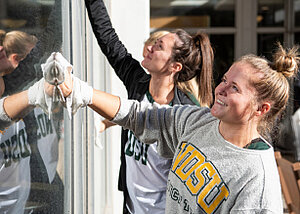 New volunteer event debuts during homecoming
Nearly 100 students, faculty and staff volunteered at 10 locations across Fargo-Moorhead during Homecoming week as part of a new student-initiated day of service. "Serve with the Herd" volunteers washed windows, weeded gardens and made blankets for children in crisis. The event produced 200 hours of service across the community in one day, adding to the many outreach opportunities offered through the NDSU Volunteer Network. Our students recorded more than 8,000 hours of service during the 2017-18 academic year.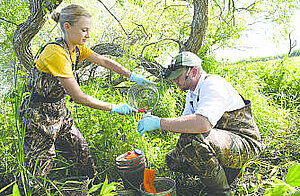 Graduate student research 
now available online
NDSU Libraries partnered with the Graduate School to make recently published theses and dissertations available online. More than 1,700 digital publications from fall 2011 to spring 2018 have been uploaded to the NDSU Repository and are openly accessible at library.ndsu.edu/ir. Click on "Research and Digital Scholarship."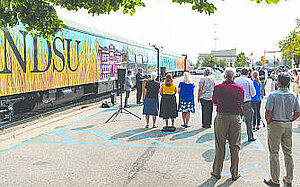 NDSU featured in Downtown Fargo art
The city of Fargo gave NDSU some nice recognition by featuring images of the university on a train car at the Northern Pacific Depot on Main Avenue. The artwork includes the university gate, bison statue, Minard Hall and Old Main clock tower. It also shows wheat, the symbol of the university's land-grant mission to serve the citizens of North Dakota, and the rolling fields of the state's landscape. The NDSU design joins a Fargo-themed train car that has become a favorite photo backdrop for residents and visitors.

Mark your calendar: NDSU's 2018 Giving Day is Tuesday, Dec. 4.
| | | |
| --- | --- | --- |
| | | |
| Submit a Class Note and catch up on the accomplishments of other NDSU graduates. | Know a prospective student? Encourage a campus visit to see all NDSU has to offer. | Learn, participate and share — stay connected to NDSU through social media. |