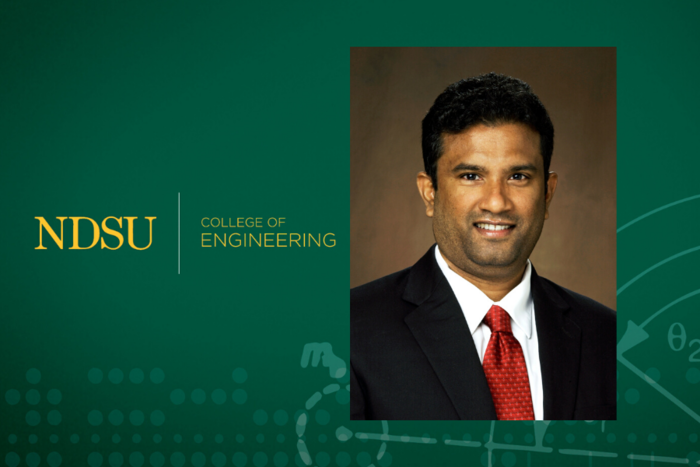 Dharmakeerthi Nawarathna, assistant professor of electrical and computer engineering in the NDSU College of Engineering, has received a National Science Foundation CAREER Award. The award will bring in hundreds of thousands of dollars to further his research and provide hands-on research and learning opportunities for students.
NSF awards CAREER grants to scholars who have the potential to serve as academic role models in research and education, it's considered the agency's most prestigious award in support of early-career faculty.
"I worked very hard on developing this grant proposal," Nawarathna said. "When I saw the award notice, I felt so happy because I was able to bring this prestigious award to NDSU."
Nawarathna's research has the potential to be a game-changer in delivering quality health care at an affordable price. His proposal is focused on developing a low-cost, highly-sensitive sensor that can detect the early stages of cancers and other diseases.
"When the sensing technology is fully developed, the sensing procedure will be somewhat similar to a finger-prick blood glucose monitor," said Nawarathna. "Low-cost diagnosis tests will be especially beneficial to rural community hospitals and clinics because it means people in those communities will not have to travel as far to get their tests done."
Nawarathna's work will provide exciting, hands-on educational experiences for NDSU students. He's introducing a new research course for freshmen in electrical and computer engineering and providing graduate students the opportunity to work on engineering systems, miniaturizing technologies and developing circuits for biomedical applications.
He and his research team are also planning outreach activities to attract underrepresented groups to the field of engineering. The events will be aimed at middle school girls and Native American community college students.
Nawarathna joined NDSU in 2014 and has been recognized as an outstanding educator who cares for his students, winning the College of Engineering's Early Career Excellence in Teaching Award in 2018. His major teaching area is electrical engineering, specifically, teaching circuits, biomedical engineering, and signals and systems.
Overall, CAREER awardees at NDSU have received more than $10 million in grants to conduct research in biology, biochemistry, chemistry, civil and electrical engineering, computer science, pharmaceutical sciences, plant sciences, coatings and polymeric materials, and veterinary and microbiological sciences.
Nawarathna's research is funded by Award No. 1941748 from the National Science Foundation.
As a student-focused, land-grant, research university, we serve our citizens.