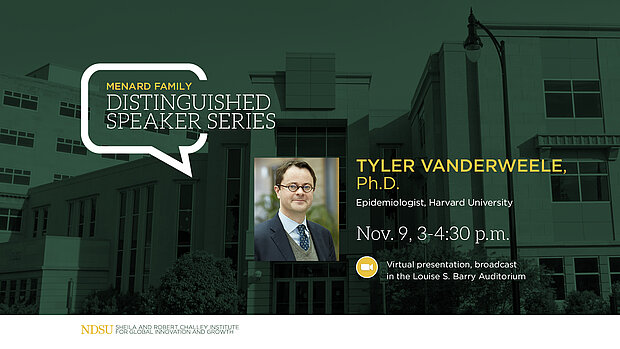 Harvard University professor Tyler VanderWeele is scheduled to give a virtual presentation at NDSU on Tuesday, Nov. 9, at 3 p.m.
The event, titled "On the Promotion of Human Flourishing," is free and open to the public. A live audience and reception is set to be held in the Louise S. Barry Auditorium at NDSU's Richard H. Barry Hall, where hors d'oeuvres and refreshments will be served.
VanderWeele describes flourishing as "living in a state in which all aspects of a person's life are good including, but not limited to, happiness and life satisfaction, physical and mental health, meaning and purpose, character and virtue and close social relationships."
In his talk, VanderWeele will discuss measures of flourishing and the implications for research and public policy. Following the presentation, he will answer questions from the audience.
"We are thrilled to bring one of the world's leading experts on human flourishing to NDSU," said John Bitzan, Menard Family Director of the Challey Institute. "Unlike many researchers who measure flourishing very narrowly, using only income or happiness, Dr. VanderWeele focuses on multiple dimensions of personal well-being. His insights on the determinants of flourishing and ways to increase it have important implications for society."
VanderWeele is the John L. Loeb and Frances Lehman Loeb Professor of Epidemiology at Harvard University. He is the director of the Human Flourishing Program and co-director of the Initiative on Health, Religion and Spirituality. He was recently named co-director of the "The Global Flourishing Study," the largest global initiative to investigate the determinants of human flourishing. The $43.4 million initiative will involve a five-year annual study of 240,000 people in 22 countries across a broad range of well-being outcomes.
VanderWeele earned degrees from the University of Oxford, University of Pennsylvania and Harvard University in mathematics, philosophy, theology, finance and biostatistics. He has published more than 300 papers in peer-reviewed journals and is the author of three books.
The presentation is part of the Menard Family Distinguished Speaker Series hosted by the Sheila and Robert Challey Institute for Global Innovation and Growth. The series invites world thought leaders to share their ideas with the NDSU community on big questions that explore ways to improve the human condition and create economic opportunities.
The Sheila and Rober Challey Institute for Global Innovation and Growth aims to advance understanding in the areas of innovation, trade and institutions to identify policies and solutions that enhance economic growth and opportunity.
As a student-focused, land grant, research university, we serve our citizens.