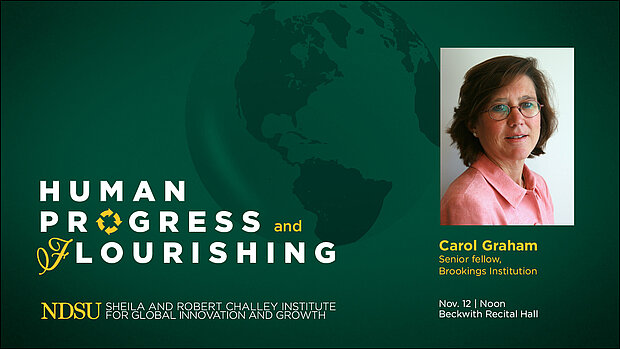 The next Human Progress and Flourishing Workshop is scheduled for Friday, Nov. 12, via Zoom. Carol Graham is set to give the virtual presentation "Hope, Despair and Divided Futures in post-COVID America."
All members of the NDSU community and the public are invited to attend the free Zoom event.
Graham is the Leo Pasvolsky Senior Fellow at the Brookings Institution, a College Park Professor at the University of Maryland and a senior scientist at Gallup. Her research areas include well-being and happiness, poverty, inequality and public health.
In her presentation, Graham will use well-being data to highlight inequality in hope and aspirations and the implications for despair and premature mortality. She also explores the role of optimism and resilience in explaining better outcomes over time and provide insights from surveys of low-income adolescents in Missouri.
Graham is the author of numerous books, including "Happiness for All: Unequal Hopes and Lives in Pursuit of the American Dream," "The Pursuit of Happiness: An Economy of Well-being" and "Happiness Around the World: The Paradox of Happy Peasants and Miserable Millionaires." Born in Lima, Peru, she earned her doctorate from Oxford University, with a concentration in economic development, political economy and Latin America.
The Human Progress and Flourishing Workshop, which is hosted by the Challey Institute for Global Innovation and Growth, invites internationally-renowned scholars from universities across the country to present their research and engage with the NDSU community.
The series returns to Beckwith Recital Hall Dec. 3 for a presentation by Ben Winchester, a research fellow for the Extension Center for Community Vitality at the University of Minnesota Extension.