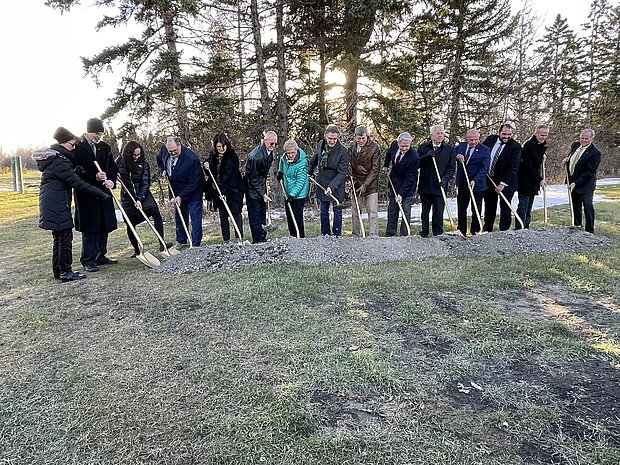 Groundbreaking and naming ceremonies for NDSU's new Peltier Complex were held Nov. 19. The state-of-the-art facility will be a hub for agricultural innovation, product development and advancing research and education.
"One of the great themes of North Dakota is family," NDSU President Dean L. Bresciani said. "For generations, [the Peltier family] have been connected to our state, to our leading industry and to NDSU, and have been catalytic to the success of all of those."
The Peltier Complex will bring together researchers, scientists, students, grower groups and producers from NDSU, the Northern Crops Institute and industry to advance next generation products developed in North Dakota. The new facility will house NDSU's food science, meat science and cereal science laboratories along with the NCI and the North Dakota Trade Office.
"What we're celebrating here is landmark, historic and game changing," Bresciani said. "This isn't an NDSU building, this is a state of North Dakota building."
In 2021, the North Dakota Legislature gave final approval to $70 million appropriations for the completion of the Peltier Complex and authorized an additional $15 million in private fundraising.
"While private philanthropy makes things work at NDSU, it takes legislative leaders to understand the impact and the importance of the work that goes on here, and it's not just for NDSU, it's for the whole state," Gov. Doug Burgum said. "It's going to make an impact on the citizens of North Dakota for generations to come."
Together, the legislative and philanthropic support will provide the largest academic facility space for NDSU students, faculty and staff to maximize their research and learning for the benefit of farmers, ranchers and processors.
"Today is about saying thank you and congratulations," U.S. Sen. John Hoeven said. "It's amazing to do something this wonderful in terms of generosity and support for the university, but it's particularly amazing to do it in a way that's going to have such a profound impact on so many people in so many ways."
State Senate Majority Leader Rich Wardner was instrumental in securing funding for the Peltier Complex. After touring NDSU's Harris Hall, Wardner was convinced that NDSU needed an updated facility to showcase North Dakota's agricultural products that would be "the pride not only of North Dakota, but of the United States of America."
The Peltier family made leadership philanthropic gifts to support the private fundraising portion of the project and is one of the region's most longstanding supporters of teaching, research, and extension in agriculture.
Keith Peltier, BS '75, said his late father, Joe, BS '51, was a promoter of ag products and that his family thought the Peltier Complex would be a great way to honor Joe and his life's work.
"It's an honor and a pleasure for our family to be part of the legacy that contributed to the ag products development center, promoting and adding value to North Dakota agriculture," Keith Peltier said. "The complex will be a showcase in returning value to North Dakota agriculture and an aid in recruitment to those promoting and adding value."
In addition to the Peltier family, numerous gift commitments were made by several commodity groups, alumni, businesses and friends of NDSU and the NCI as part of NDSU's $455 million "In Our Hands fundraising campaign," scheduled to conclude Dec. 31.
For decades, agricultural success has been shaped by research that has grown out of partnerships between NDSU and the NCI. The Peltier Complex will promote further collaboration.
"By bringing NDSU's cereal science, food science and meat science programs together with the NCI, we will capitalize on unique synergies between these programs to drive further innovation and add value to agricultural commodities produced in the region," said Greg Lardy, NDSU vice president for agricultural affairs.
"Forty years ago, the region's agricultural leaders and North Dakota elected officials had the vision to create the Northern Crops Institute," Mark Jirik, NCI director, said. "Once again, North Dakota agricultural leaders and elected officials have had the wisdom and fortitude to continue to move that vision forward. This is about bringing the world to our door."
The Peltier Complex will allow NDSU researchers to address industry needs by providing novel services that create lasting partnerships currently missing in today's market.
"We can create better feed varieties for livestock and invent more innovative North Dakota food products that excel in nutrition, taste and palatability," said Eric Berg, professor of animal sciences, noting the complex will offer new learning and research capabilities to the next generation of agriculturalists and scientists.
"As students, we will undoubtedly benefit from the hands-on experience and be empowered by the versatile, interdisciplinary and collaborative space that awaits us," said Anna Magallanes López, a doctoral candidate in NDSU's cereal science program. "This is the state-of-the-art facility we need in order to fulfill future expectations and keep nourishing the people of today and tomorrow."
The Peltier Complex will be located in the southwest corner of campus. Construction is estimated to begin in the late spring of 2022 and will take approximately 20-24 months to complete.
As a student-focused, land-grant, research university, we serve our citizens.