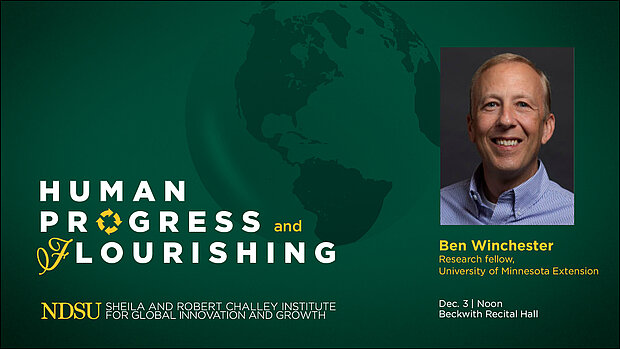 The last Human Progress and Flourishing Workshop is scheduled for Friday, Dec. 3, at noon in Beckwith Recital Hall. Ben Winchester is set to present "Rewriting the Rural Narrative."
All members of the NDSU community and the public are invited to attend the free event. After the presentation, hors d'oeuvres and refreshments will be served in the Challey School of Music Atrium.
Winchester is a senior research fellow for the Extension Center for Community Vitality at the University of Minnesota Extension. He conducts applied research on economic, social and demographic topics that are vital to rural America.
According to Winchester, the story of rural America since 1970 is rich and diverse, with positive trends occurring under the radar. He plans to discuss how positive changes around migration, community involvement, economic development and regional living have diversified the rural landscape.
Winchester received the Rural Renewal Research Prize in 2021 from Oklahoma State University. He received his master's degree in rural sociology from the University of Missouri, Columbia.
The Human Progress and Flourishing Workshop, which is hosted by the Challey Institute for Global Innovation and Growth, invites internationally-renowned scholars from universities across the country to present their research and engage with the NDSU community.
The series will return in January 2022.
As a student-focused, land-grant, research university, we serve our citizens.