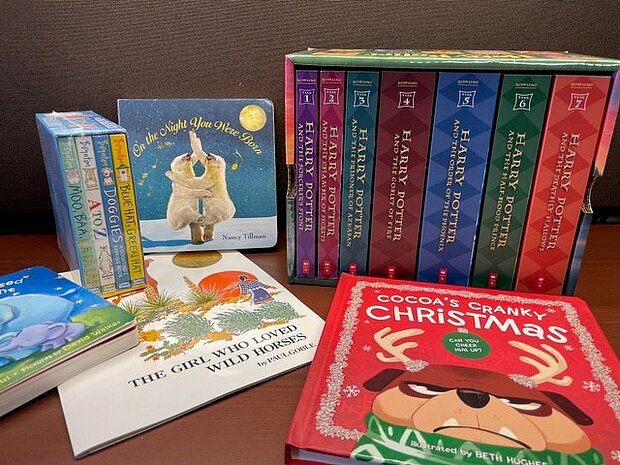 The North Dakota State University Police and Safety Office is again partnering with Sanford Children's Hospital in Fargo to gather book donations and deliver them to hospitalized children. The annual holiday effort began 11 years ago.
"There are children and their families in our community that are going to be spending the holidays in the hospital feeling less than great," said Jennifer Quenette, associate director of public health and safety at NDSU. "This is something we can do as a department to reach out to our community to let them know we care. Providing a child a book where they can absorb a story and go somewhere beyond their hospital walls can be very powerful."
This year, the department plans to donate more than 100 books. The department works with the Sanford Children's Hospital program director to decide what kinds of books to collect. This year it was determined that many infant and toddler books and chapter books for teens are needed.
"We are so grateful for the continued partnership with NDSU University Police and Safety," said Hillery Mork, development manager of Sanford Health Foundation Fargo. "We look forward to their annual visit and donation of books for the kids at Sanford Children's Hospital each year. Donations like this are so appreciated by the children and families as it makes their hospital stay extra special around the holidays."
Quenette said her office resembles a library this time of year. Most days she will open her door to a new pile of books to be donated.
The books will be delivered to Sanford Children's Hospital on Friday, Dec. 17.
"Typically when you're working with our office, it's in a time where something may have gone wrong, you are hurt, angry or perhaps scared. But our department is so much more than that," said Quenette. "We are compassionate officers, call center operators, environmental and public health and safety professionals. We each have a lot of love for our community, so when we can take the time and opportunity to reach out and help families and their children escape some of the pain, sadness and worry, we enjoy doing that."
As a student-focused, land-grant, research university, we serve our citizens.