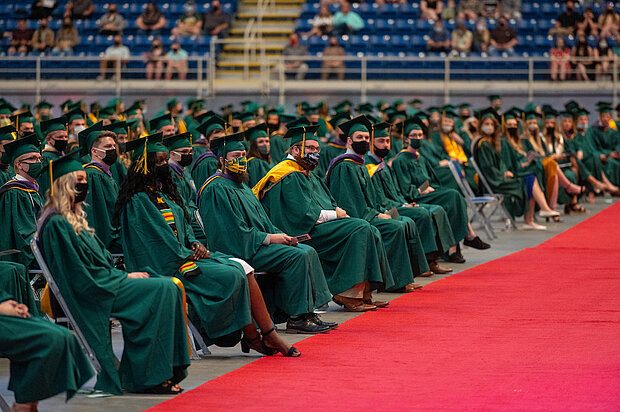 NDSU is set to hold commencement ceremonies Friday, Dec. 17, in the Sanford Health Athletic Complex. Two ceremonies are scheduled.
The 2 p.m. ceremony will be for graduates of the College of Ats, Humanities and Social Sciences; College of Engineering; College of Human Sciences and Education; and interdisciplinary studies. The 5 p.m. ceremony is for graduates in the College of Agriculture, Food Systems and Natural Resources; College of Business; College of Health Professions; and College of Science and Mathematics.
According to Jackie Schluchter, associate registrar, a total of 635 graduate, professional and undergraduate students have indicated they will participate. There are 991 eligible students.
"Commencement is an exciting opportunity to celebrate our graduating students," Schluchter said. "It is amazing to see the campus community come together to create a memorable experience for our students. We congratulate these students on a well-earned accomplishment."
A class representative will speak during each ceremony.
Lauren Sampson, who is earning her Bachelor of Science degree while double majoring in music and mathematics, is set to address the 2 p.m. gathering. She is a native of Edmore, North Dakota, and the daughter of Owen and Valerie Sampson.
Emily Omvig is receiving her Bachelor of Science in nursing, and is scheduled to give her talk at the 5 p.m. ceremony. She is the daughter of Kenton and Lisa Omvig, Bismarck, North Dakota.
NDSU is set to present an honorary doctorate of business to William Goetz, former chancellor of the North Dakota University System, during the 5 p.m. event.
Goetz has left an indelible mark on the state during his lengthy and distinguished career in public service. He was chancellor from 2007 to 2012, overseeing 11 institutions and a $1 billion budget. He also was named Chief of Staff for Gov. Ed Shafer in 1997, and remained in the position for 10 years, continuing in the job after John Hoeven's election as governor. He previously represented District 37 in Dickinson, North Dakota, as a state senator for eight years and as a state representative for 12 years.
Soloists for NDSU's ceremonies are Brady Ritland, who is earning his Bachelor of Music in vocal education, and Julie Ly, a student majoring in music. Ritland is from Grand Forks, North Dakota, while Ly is from West Fargo.