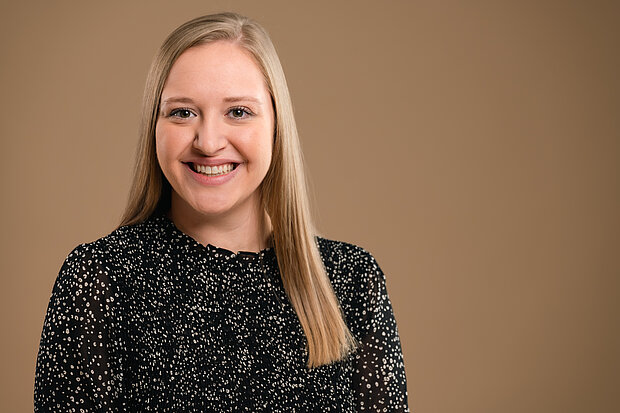 Senior Emily Omvig is the class representative for the 5 p.m. NDSU commencement ceremony on Friday, Dec. 17.
Graduating NDSU senior Emily Omvig plans to share a life's lesson as she gives her talk during the 5 p.m. commencement ceremony on Friday, Dec. 17.
"My theme is evolving perceptions – I'll take a light-hearted approach as to how our mindset shifts throughout experiences in life until we can see the big picture clearly," said Omvig, who will receive her Bachelor of Science in nursing. "The past four years have required a lot of hard work and determination. That being said, if I can make people smile and remember a few of their own 'behind the scenes' moments that got them to where they are now, I will be happy with the outcome."
Omvig has many moments to remember. Foremost among them, she was named Student Nurse of the Year for 2020-2021, an honor that included a nomination from faculty, votes by her student peers and a panel of judges.
"I was truly touched to have the support and validation from so many different groups of people," said Omvig, who is from Bismarck, North Dakota. "Receiving this honor signified the growth made in both my personal and professional life throughout the past four years."
Highly active during her collegiate career, she was president of the Nursing Christian Fellowship, a Student Nurses Association board member, a Nursing Guide and played on an intramural women's basketball championship team. She also was an oncological research assistant in the biology department and served as a laboratory mentor. In addition, Omvig had an internship and her practicum at CHI St. Alexius Health, Bismarck.
She also earned the North Dakota Future Nurse Scholarship, Jonelle and Birch Burdick Nursing Scholarship and the Presentation Sisters Scholarship.
"NDSU provides students with the means necessary to succeed in their respective career fields," Omvig said. "I feel as though I have received the training necessary to pass my boards and work safely as a healthcare professional. But more importantly, the culture at NDSU has allowed me to grow, shaping my heart into that of a nurse.
"My time at NDSU not only created a nurse, but an individual who is capable of upholding values in all aspects of life."
Her immediate career goal is to become a registered nurse in a hospital's emergency department. Beyond that, she hopes to one day continue her education.
Omvig said she would highly recommend NDSU to prospective students, because it is her family's school of choice. Her parents, Kenton and Lisa Omvig, are alumni. Her older sister earned her doctorate at NDSU and her younger brother is a current student.
"NDSU holds a foundational spot in my life, and I will never regret the decision I made to follow in the footsteps of my family," Omvig said. "This is the place to go if you want to learn and succeed while being seen and valued. I am honored to join the legacy of NDSU alumni."
As a student-focused, land-grant, research university, we serve our citizens.