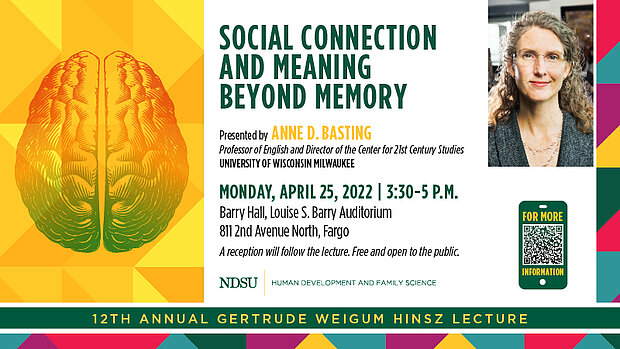 The NDSU Department of Human Development and Family Science is set to host the 12th annual Gertrude Weigum Hinsz Lecture on Monday, April 25, at 3:30 p.m. in the Louise S. Barry Auditorium in Barry Hall.
"Social Connection and Meaning Beyond Memory" will be presented by Anne D. Basting, professor of English and director of the Center for 21st Century Studies at the University of Wisconsin, Milwaukee.
The event is free and open to the public. A reception will follow the lecture.
Basting will explore the power of creativity to enhance meaning, purpose and joy in late life - regardless of physical or cognitive abilities. She will offer examples of projects done before and during the pandemic to build relationships and community.
"We are excited to bring Dr. Basting to Fargo to share her work with the campus and community, said Joel Hektner, professor and department head of human development and family science. "Her work spans multiple disciplines, and it exemplifies our mission in HDFS of finding ways to promote well-being at every stage of the lifespan."
Basting's research centers on infusing meaning-making practices into health and social care systems, considering that a human right regardless of age or cognitive or physical ability.
Basting's work as both a community-engaged artist and scholar has been recognized by a MacArthur Fellowship, an Ashoka Fellowship, a Rockefeller Fellowship, and multiple major grants. She is author/editor of multiple books, including "Creative Care," "The Penelope Project" and "Forget Memory." She is founder of the award-winning non-profit, TimeSlips Creative Storytelling, an alliance of artists and caregivers bringing meaning and joy to late life through creative engagement. The group has more than 1,000 certified facilitators in 49 states and 23 countries.
She earned her bachelor's degree at Colorado College; Master of Arts degree in theatre at the University of Wisconsin, Madison; and doctorate in theatre from the University of Minnesota-Twin Cities.
As a student-focused, land-grant, research university, we serve our citizens.