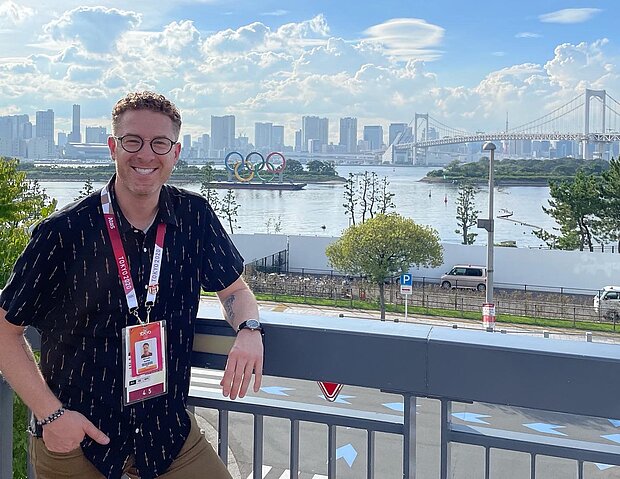 NDSU communication doctoral program alumnus Michael Burns has worked all over the world as a production runner for television coverage of several Olympic Games.
For nearly two decades, NDSU alumni Michael Burns has been working with the "Today" show on their Olympic coverage.
Burns graduated with his doctorate in communication from NDSU in 2012. He now works as the director of career readiness and a senior lecturer at Texas State University in San Marcos, Texas.
He started working with the "Today" show in 2005 as part of an undergraduate internship with NBC. The next year was the 2006 Olympic Games in Torino.
"I heard that they were hiring production runners for the 2006 Winter Olympics in Italy, and I asked about the position," said Burns. "While interning, I gravitated towards production management and logistics work. It turned out that team is who hires and oversees the runners. I was hired and worked the 2006 Games."
Runners working for NBC Olympics support operations, production, run errands and perform administrative work. They assist with tasks across departments.
Now, Burns oversees the runners and works with the production management and logistics team.
"We are the folks who coordinate every aspect of the show from pre-production to post-production," he said. This is a comprehensive list of everything that happens behind the scenes that affects what viewers see during the daily four-hour coverage of the Games. And that means everything.
"We arrive first to set up office space, work with our tech teams to make sure our office and broadcast equipment are functioning, we research the city and venues, we oversee the travel and lodging for our team, we purchase props and other needs for show segments, we plan for athlete and guest arrival and departure procedures and we think through all possible issues that could occur during a live show," said Burns. "Once the show starts, we plan the logistics for everything and we know where everything and everyone is at all times during the show."
Since his initial Games in 2006, he has covered six other Olympic Games: 2008 Beijing, 2012 London, 2016 Rio de Janeiro, 2018 PyeongChang, 2020 Tokyo and, most recently, 2022 Beijing. Burns credits his NDSU education for the reason he has been able to continuously work for the Olympics.
"My NDSU education plays an enormous role in my success at the Olympics," he said. "Having a Ph.D. in communication allows me to see problems and people from all angles. I honestly believe that my education from NDSU is one of the biggest reasons I keep getting asked back. I am so grateful for my professors and the time I spent learning, researching and teaching in NDSU's communication department."
For students interested in working with the Olympics, Burns recommends putting in the time-consuming work in broadcast news, sports and production management.
"It is a lot of work and you have to put in the time and effort early to be able to find the big opportunities," said Burns. "Be present and show up. Say yes to opportunities. I applied and was denied two times before scoring the "Today" show internship. And when I got there, I made sure I worked harder than anyone. I always try to make other people's jobs easier for them. That is how you become not only part of the team, but an integral part of the team."
Students can get started working in broadcast and production at NDSU by being involved with the Bison Information Network, a student-run and -operated broadcasting service, or gaining experience at the various local news outlets through internships.
"Covering the Olympics is all about teamwork, and the "Today" team is the best in the business," said Burns. "My background in communication allows me to mesh right in with the team."