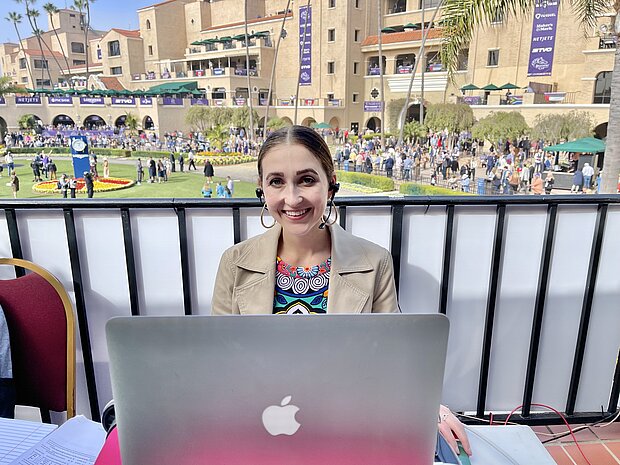 NDSU graduate Annise Montplaisir hosts a Spanish-language horse racing web broadcast.
Most people will do anything to attend their high school senior prom. NDSU alumna Annise Montplaisir skipped hers to attend the Kentucky Derby. That year was the first she would ever attend the Derby. Now, Montplaisir spends every day immersed in the horse racing industry.
Montplaisir graduated from NDSU in 2017 with a dual degree in management communication and international studies. She also minored in Spanish. She lives in Kentucky, where she's the equine education coordinator for the Kentucky Equine Education Project Foundation, co-founder of Amplify Horse Racing and co-host for La Trifecta, a Spanish-language horse racing web broadcast.
Montplaisir focused academically on writing and communication. She joined student organizations like the Collegiate Horseman's Association and participated on one of NDSU's riding teams to keep close to horses.
"Something I always reflect on at NDSU was the flexibility I had to create the academic program that worked for me," she said. "My degree at NDSU was just as multifaceted as my job is now, so it really prepared me to be able to multitask and compartmentalize things. I came out of school with an amazing, well-rounded perspective."
Her management communication major gave her important communication skills she uses daily. The secondary international studies degree and Spanish minor complement the international aspect of the horse racing industry. Additionally, a large portion of the horse racing workforce is Hispanic.
"I saw there was going to be a big value for me to be able to speak Spanish and eliminate some of those language barriers," she said. "I've always been passionate about wanting to create more Spanish resources for the Hispanic population that was working in the industry."
Montplaisir spent a semester studying abroad in Viña del Mar, Chile while at NDSU. This decision was all about location: Viña del Mar is home to Valparaíso Sporting, a thoroughbred race track. It was there she would meet one of her future co-hosts for the Breeders' Cup en Español coverage.
"Studying abroad definitely cultivated my passion for Spanish," she said. "You can study a language, but unless you're actually immersed in that language all the time, it's very difficult to keep on with it."
Immediately after graduating, Montplaisir started Godolphin Flying Start, a management and leadership training program that specializes in thoroughbred racing and breeding. During the two-year program, Montplaisir traveled to Ireland, the United Kingdom, Dubai, Australia, and across the United States to learn about the horse racing industry with eleven other recent graduates.
"That was a big part of how I am where I am today," she said.
Montplaisir spends her day doing what she loves and helping others get involved in the industry. For students with similar passions, she recommends being open to exploration even after they graduate from college.
"I found it really healthy to continue gaining a variety of experiences through doing a bunch of internships and continuing to travel," she said. "Building off of that well-rounded experience I got in school and continuing to round it out in the real world."
Begin building your own path and apply to NDSU today.