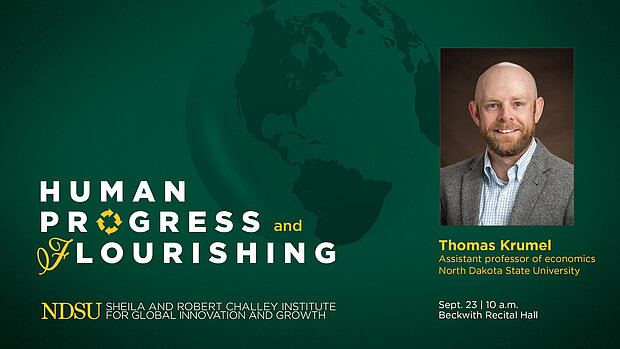 The next Human Progress and Flourishing Workshop is scheduled for Friday, Sept. 23, at 10 a.m. in Beckwith Recital Hall. NDSU economist Thomas Krumel is set to present "Contextualizing the post-COVID-19 Rural Labor Market."
All members of the NDSU community and the public are invited to attend the free event. After the presentation, food and refreshments will be served in the Challey School of Music Atrium.
Krumel is an assistant professor in the Department of Agribusiness and Applied Economics and a scholar at the Challey Institute for Global Innovation and Growth. His research focuses on rural economic development, labor demand and employment skills gaps.
In the presentation, Krumel will discuss his recent research on the labor shortage and pandemic-related factors. Specifically, he plans to examine frontline industries, rural health infrastructure and the continued economy-wide labor shortage.
Prior to coming to NDSU, Krumel worked as an agricultural economist at USDA, where he received the Under Secretary's Research Award for his contribution to the USDA's rapid response to the COVID-19 pandemic. He earned his doctorate in agricultural and resource economics from the University of Connecticut.
The Human Progress and Flourishing Workshop, which is hosted by the Challey Institute for Global Innovation and Growth, invites internationally-renowned scholars from universities across the country to present their research and engage with the NDSU community.
The series continues every other Friday through Dec. 2.
As a student-focused, land-grant, research university, we serve our citizens.