Donald Miller, Pharm D, FASHP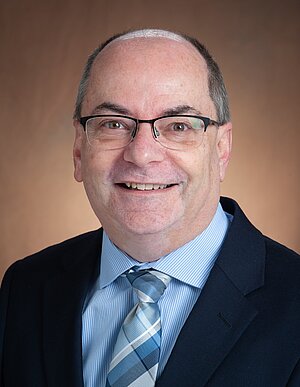 Professor
118R Sudro Hall
701.231.7941

Donald.Miller@ndsu.edu
---

Education
Doctor of Pharmacy, 1978
University of Michigan
Bachelor of Science, Pharmacy, 1976
University of Manitoba

Responsibilities

Professor, Department of Pharmacy Practice
Preceptor, Pharmacy Academic rotation
Associate Faculty, MPH Program (Clinical Systems Track)

Committees
College Assessment
Department Promotion and Tenure Committee

Areas of Expertise
Drug Literature Evaluation
Rheumatology
Statistics
Study Design
Professional Memberships
American Society of Health-Systems Pharmacists, Fellow
American Pharmaceutical Association, Member
American College of Clinical Pharmacy, Member and Student Liaison
American Association of Colleges of Pharmacy, Member
American College of Rheumatology, Member
Arthritis Today Editorial Advisory Board
FDA Arthritis Advisory Committee, Member (2014-2016)
Current Research
Educational Research: Pedagogical Methodology, Development and Assessment of Critical Thinking
Public Health Issues: Tobacco and e-cigarettes
Recent Publications
Buettner-Schmidt K, Miller DR, Maack B. Disparities in rural tobacco use, smoke-free policies, and tobacco taxes. Western Journal of Nursing Research 2019 https://journals.sagepub.com/doi/10.1177/0193945919828061.
Miller DR, Jangula S. Confirmation bias as a factor in pharmacy student assessment of research study quality. Am J Pharm Ed 2018;83:article 6754 https://www.ajpe.org/doi/pdf/10.5688/ajpe6754
Buettner-Schmidt K, Maack B, Larson M, Orr M, Miller DR, Mills K. Systems Change for Tobacco Use Identification and Referral in the Chiropractic Setting: A Pilot Study. Chiro Man Ther 2018;26:45 https://chiromt.biomedcentral.com/articles/10.1186/s12998-018-0214-y
Miller DR, Vidger A. Biosimilars and the Pharmacist: A review of the legal and regulatory issues. J Contemp Pharm Pract 2018;65(3):32-36 http://dashboard.mazsystems.com/webreader/57918?page=32
Krause ML, Domingues V, Miller DR. Hydroxychloroquine retinal toxicity. The Rheumatologist. 2016;10 (Nov):34-35.
Buettner-Schmidt K, Miller DR. An observational study of compliance with North Dakota's smoke-free law among retail stores that sell electronic smoking devices. Tobacco Control 2016 doi:10.1136/tobaccocontrol-2015-052888
Buettner-Schmidt K, Miller DR, Balasubramanian N. Electronic cigarette refill liquids: child-resistant packaging, nicotine content, and sales to minors. Journal of Pediatric Nursing 2016; 31:373-9.
Zhou J, Wang T, Zhao X, Miller DR, Zhai S. Comparative Efficacy of Bisphosphonates to Prevent Fracture in Men with Osteoporosis: A Systematic Review with Network Meta-Analyses. Rheumatology and Therapy 2016;3:117-28.
Strand M, Miller DR, Focken R. Assessing public health knowledge and perceptions of pharmacy students before and after completion of didactic and experiential public health coursework. Currents in Pharmacy Teaching and Learning 2016; 8(1): 1-6
Miller D, Maack B, Loueng J. Relation of Two Brief Health Literacy Tools to Correct Prescription Understanding. J Am Pharm Assoc. May/June 2015;55(3)
Strand M, Miller DR. A pathway forward for pharmacy and public health. JAPhA, 2014; 54: 193-7
Courses
CHP 450: Complementary and Alternative Medicine
PHRM 170: Common Medicines and Diseases
PHRM 480: Drug Literature Evaluation
PHRM 534: Pharmacotherapy: Rheumatology
PHRM 581-589: Advanced Pharmacy Practice Rotations


Awards
Al Doerr Service Award for outstanding public and professional service to pharmacy
Mary J. Berg Award for excellence in teaching, NDSU College of Pharmacy, Nursing, and Allied Sciences, 2012
Fellow, American Society of Health-Systems Pharmacists
Blue Key Distinguished Educator Award, NDSU 2005
John Finn Award for outstanding volunteer service to Arthritis Foundation North Central chapter