Sara Thompson, PharmD, BCACP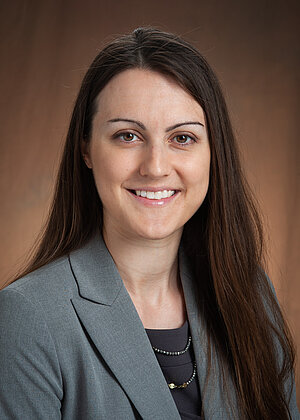 Assistant Professor of Practice
118T Sudro Hall
701.231.7502
---
Education
ASHP Accredited Pharmacotherapy (PGY2) Residency, 2017-2018
University of Texas at El Paso School of Pharmacy - El Paso, TX
ASHP Accredited Pharmacy Practice (PGY1) Residency, 2016-2017
Veterans Affairs Caribbean Healthcare System/University of Puerto Rico School of Pharmacy – San Juan, PR
Doctor of Pharmacy, 2016
Belmont University College of Pharmacy
Nashville, TN
Bachelor of Science, Geological Science, 2009
University of Miami
Coral Gables, FL
Bachelor of Arts, Spanish, 2009
University of Miami
Coral Gables, FL
Clinical Site
Sanford Health/Roger Marris Cancer Center, Fargo, ND
Areas of Expertise
Ambulatory Oncology
Pharmacotherapy (Family Medicine)
Health Disparities/Cultural Competency
Medical Spanish
Professional Memberships
Hematology/Oncology Pharmacy Association
American Association of Colleges of Pharmacy
The Rho Chi Society
Recent Publications
Thompson S, Chow N, Arias I. Ovarian Cancer. PharmacotherapyFirst: A Multimedia Learning Resource. Accepted for Publication. 2019
Lopez A, Thompson S, Miller L. Resilience in residency: Navigating difficult situations while maintaining your mental well-being. In: Get the Residency: ASHP's Guide to Residency Interviews and Preparation; 2nd ed. Accepted for Publication. 2019.
Thompson S, Padilla M, Loya A, Chavez M, Shenberger J. Understanding career preparedness, exposure, and support by surveying clinical pharmacists in oncology practice to identify opportunities for development of PharmD curricula. Curr Pharm Teach Learn. Accepted for Publication. 2019.
Jiménez KM, Thompson S. Drogas de diseño: Un área gris. Rev Farma. 2017;76(3):12-15.
Díaz-Cruz E, Bynum LA, Thompson S. Student pharmacists' perceptions on their preparedness and comfort level in counseling on HIV transmission risk factors and over-the-counter HIV tests. Curr Pharm Teach Learn. 2016;8(6):757-766.
Courses
PHRM 535: Neoplastic Diseases
PHRM 560: Specialty Care Topics (Palliative Care)
Pharmacist Licensure
Tennessee
Certifications
Board Certified Ambulatory Care Pharmacist (BCACP)
American Heart Association Advanced Cardiac Life Support
American Pharmacist Association Delivering Medication Therapy Management Services
American Pharmacist Association Immunization Certification
Tennessee Dept. of Health HIV Testing and Counseling Certification