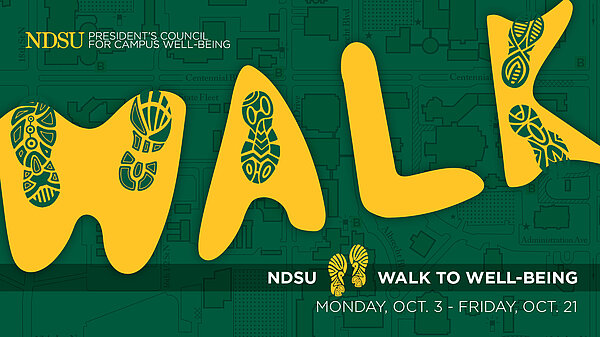 NDSU Walk to Well-being
The President's Council for Campus Well-being is encouraging the campus community (faculty, staff and students) to participate in the NDSU Walk to Well-beingbeginning Monday, October 3 through Friday, October 21. Each week we will host facilitated walking tours, to not only get out and walk, but to learn more about our campus environment. Our first walking tour will feature our downtown buildings!
WHEN: Thursday, October 6th from 12:00 to 12:30pm and again from 12:30 to 1:00pm
WHERE: Barry Hall lobby
On the main campus and want to attend? Join us by taking the MATBUS! Meet at the NDSU Transit Hub (by the Memorial Union parking lot) at 11:45am or 12:15pm to take Bus Route #33 to Barry Hall. Be sure to bring your NDSU ID card. Members of the PCCW will be there to ride the bus with you if you haven't done this before! Return routes from Barry Hall back to main campus leave at 12:43pm and 1:13pm.
Need more incentive? There will be 5 gift basket drawings that include items like NDSU branded beach towels, winter hats, coffee tumblers, power banks, free visits to the Wellness Center, and more!
Two ways to enter the prize drawing:
Attend and sign in at facilitated walking tours
Take pictures of your walking adventures throughout each week and share with us by:
Multiple entries are encouraged. The more you participate, the better chance you have of walking away (pun intended) with great NDSU gear!
Stay tuned for additional walking tour dates and details! In the meantime we encourage you to check out the outdoor routes around campus to get some extra steps in your day.
Need more convincing? Here are some more ideas and reasons…
Sitting for too long increases your risk of chronic and metabolic health problems, it can weaken your muscles and joints, and it can even impact your mental health.
Physical wellness has a large impact on a person's overall well-being.
Create a calendar invitation to remind yourself to get up and walk around.
Switch one of your meetings each day to a walking meeting.
Reach out to someone you haven't connected with in a while, and see if they want to walk together.