DPH Statement on Racial and Social Injustice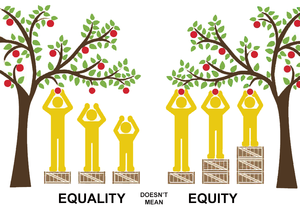 The philosophical and ethical foundation upon which public health is built is one of social justice, which emphasizes collective action to address the root causes and social determinants of health inequities. Poor access to healthcare, experiences of racism, and economic insecurity all contribute to health inequities.
The devastating health and economic impacts of chronic health conditions, and recently the emergence of COVID-19, have a disproportionate impact on American Indian, Black, and other minority communities due in large part to another public health crisis – structural racism.
Recent protests calling for racial and social justice have been fanned by the killings of Black people at the hands of police; the unjustified killing of American Indian people is equally egregious, yet has received much less media attention. American Indian communities and communities of color have been raising their voices for decades against the devastating and continuing legacy of systems in which power, access to resources, and economic status are determined by the color of one's skin.
The NDSU Department of Public Health not only calls for community dialogue and criminal justice reforms and but also for action toward racial and social justice now. We support faculty, staff, and students of color and invite you to understand how racism is everyone's problem and learn how to use your voice to promote social justice. The Department's Action Plan for Addressing Racial and Social Injustice is being developed and will be posted soon.
Resources:
The American Public Health Association (APHA) website: https://www.apha.org/topics-and-issues/health-equity/racism-and-health
Webinar hosted by APHA, "Racism: The Ultimate Underlying Condition:" https://www.apha.org/events-and-meetings/webinars/racial-equity/webinar-1-recording
Vision
Healthy people, thriving communities, equitable world.
Mission Statement
To develop and empower public health leaders through interprofessional education, practice, and research.
Values
Professionalism & Ethics
Foster an environment exemplifying honesty, integrity, and collegiality and uphold public health standards of professionalism and ethics
Social Justice
Advance equitable systems that empower diverse individuals and communities through inclusivity and advocacy to achieve optimal health and well-being
Evidence-Informed Public Health
Develop and use evidence to advance public health programs and policies that are inclusive of cultural and community-based knowledge and practices
Collaborative Approach
Advance the field of public health through interprofessional, cross-sector, community, and tribal collaboration in education, research, and practice
Program Goals
Instruction. The MPH program will develop public health professionals through instruction which equips them with knowledge and skills reflective of public health science.
Research. The MPH program will engage in research that leads to advances in public health.
Service. The MPH program will foster collaborative relationships to provide expertise and skills to address the complex challenges facing public health.