Range Science, a program in the School of Natural Resources Sciences, offers the following degrees: Bachelor of Science, Masters of Science and Doctor of Philosophy.
Our program deals with the interrelationships among plants, livestock, wildlife, and human disturbance with soils, climate and other factors and the use of range management principles on rangeland ecosystems. Range Science at NDSU is a discipline that focuses on the scientific study of rangelands, grasslands, prairies, wetlands and grazed forests of semi-arid regions in order to manage the natural renewable resources for optimum benefit and environmental balance.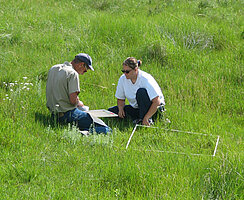 Range science provides students with the knowledge and experience to manage rangeland resources for the highest continuing yield of products consistent with the conservation of the natural renewable resources. Students are introduced to a broad array of plant, soil and animal sciences. The undergraduate program is designed to provide adequate training in range plants and ecology, range improvement and management, rangeland monitoring techniques and watershed management. Basic knowledge of other sciences such as biology, botany, chemistry, mathematics and zoology is required. Courses in related fields of animal science, entomology, forestry, geology, GIS, natural resource management, soils and wildlife management are included.
High School Preparation
High school preparation should include course work in biology, chemistry, math and English.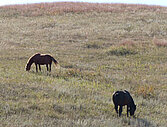 Career Opportunities
Range science graduates find rewarding, lifelong careers with federal, state and provincial government agencies; private industry and consulting firms; college and university research, teaching and extension positions; and non-profit conservation organizations. The increasing need for research in natural resource sciences has lead many graduates to seek further education in graduate programs. Specifically, graduates of our program find jobs as ranch managers, rangeland livestock managers, restoration ecologists, invasive plant specialists, mined-land reclamation specialists, wildlife habitat managers, watershed managers, wetland management specialists and many more in various agencies and private firms.


Range science graduates are in high demand and qualify for a wide variety of careers in conservation and natural resources management. Examples of employment opportunities include:
Federal Agencies

Natural Resources Conservation Service
U.S. Forest Service
Bureau of Land Management
Agricultural Research Service
U.S. Fish and Wildlife Service
National Park Service
U.S. Geological Survey
U.S. Environmental Protection Agency

State Agencies:


Natural resource departments
Game and fish departments
State land departments
Experiment stations
Extension Service

Private Industry:


Ranch management
Environmental consulting
Agricultural sales and service
Agricultural advisors
Mined-land reclamation specialists

Foreign Assignments:

Peace Corps
U.N. Food and Agriculture Organization
U.S. Agency for International Development