The Memorial Union Gallery is on the second floor of the NDSU Memorial Union, located at 1401 Administrative Avenue in Fargo. Visitor parking is available in the South Union Lot; free parking available after 4:30 p.m. weekdays and all day on weekends. The gallery is open Monday-Friday: 9 a.m.-5 p.m. during the semester or by appointment. All events are free and open to the public. In compliance with the Americans with Disabilities Act, NDSU will honor reasonable requests for accommodations.
Location:
The Memorial Union Gallery & Store is located on the Upper Level of the Memorial Union, above the NDSU Bookstore.
---
What We're Known For:
Virtual Reality Experiences, Open Mics, Visiting Artists, One on One Interactions, Art Interventions

Our Values:
Developing Relationships, Facilitating Opportunities, Curiosity, Challenging Ideas, Learning Through Doing, Social Justice, Making The Gallery Your Gallery
---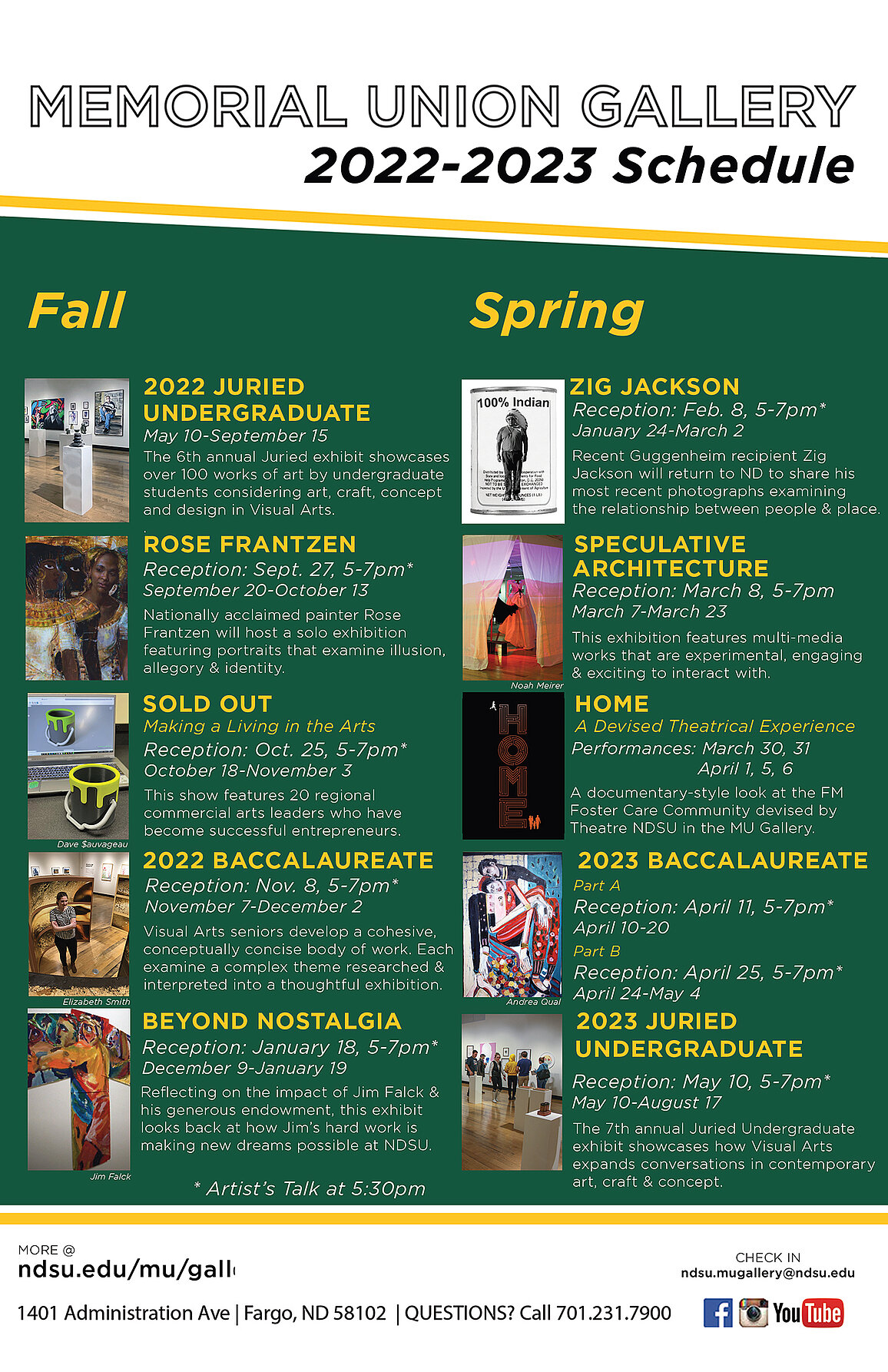 ---
---
Parking
Visitor parking is available nearby in the South Union Parking Lot for $.50 per 15 minutes. Free parking is available after 4:30 p.m. weekdays, and parking is free all day during the weekends. Instructions for using the self-service paystations are located at each kiosk.


Click here to view the NDSU Parking Lot Map
Contact Us
Anthony Faris
Gallery Coordinator & Curator of Collections
(701) 231-8239
james.faris@ndsu.edu

Mailing Address:
P.O. Box 6050, Dept. 3440
Fargo, ND 58108-6050
Shipping Address:
258 Memorial Union, NDSU
1401 Administration Ave.
Fargo, ND 58102
Anthony Faris
Gallery Coordinator & Curator of Collections
(701) 231-8239
james.faris@ndsu.edu