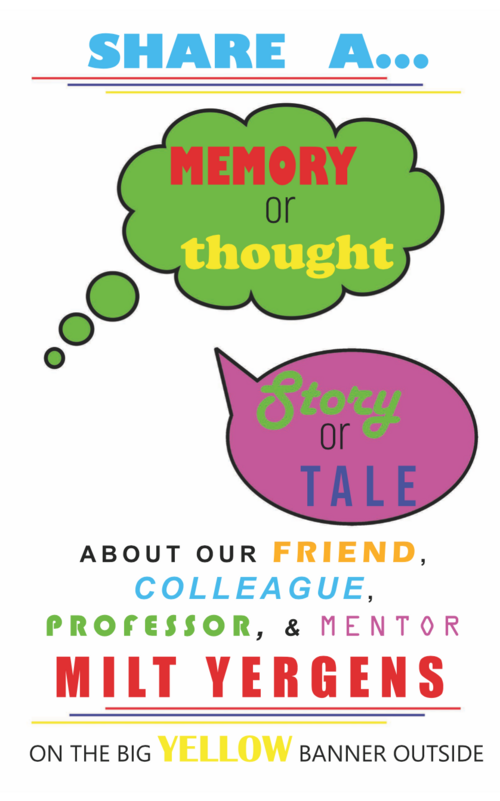 Dear SoDAA Community –
This has been a challenging week and there are several opportunities to honor, remember and celebrate our friend, teacher, mentor and cherished colleague, Milton Yergens.
A brief introduction for those new to the community or that did not experience life with Milt.
Milt Yergens was a larger than life personality who worked seamlessly across disciplines as an architect, designer and artist. He moved through the world with a distinctively unique perspective – as our colleague Professor Ron Ramsay stated on Friday during a gathering – He just saw the world, differently - than everyone else. It was through this lens that Milt inspired students and colleagues with infectious energy and thoughtfulness to create a more interesting world to live in.
He was a challenging teacher - told it like it is - and pushed students to take their ideas further. At the same time It was rare that a studio or encounter with Milt was not punctuated at some point with his booming laugh that echoed throughout the hallways: From a distance you just KNEW Milt was up to something.
He was also a digital technology pioneer and was a key faculty member as part of a team pushing for and instituting the early adoption of laptops in the Architecture and Landscape Architecture programs at NDSU in the early 90s. NDSU was one of the nation's earliest programs to embrace this digital technology. At the same time he was passionate about hand drawing as a founding member of the Moorhead Urban Sketcher group. Most recently he had a stellar work of art at the 62nd Midwestern Exhibition at the Rourke Gallery in Moorhead. (see attached image of a most recent digital painting titled "knock knock")
For those who knew Milt…
It is difficult to endure loss alone – and so we gather.
Ongoing: Banner honoring Milt Yergens
On Friday a banner honoring Milt, created by students and faculty was installed on the east side of Renaissance Hall. This is an opportunity to contribute to the banner and share your thoughts as well as read through other's experiences. This will serve as a collective celebration and archive of Milt's impact.
Milt certainly provided plenty of opportunity and inspiration to share!
In the atrium of Renaissance Hall there are markers, etc. for you to add to the banner over the next couple of weeks. Please see the attached poster of encouragement to participate.
Tuesday and Wednesday – Funeral/Visitation
Visitation: Tuesday, September 6, 2022 from 5pm – 7pm
Korsmo Funeral Chapel, Moorhead.
Funeral Service: Wednesday, September 7, 2022 at 11am
Concordia College - Knutson Center Centrum, Moorhead.
Interment: Wednesday, September 7, 2022 at 3:30pm.
Immanuel Lutheran Cemetery, McIntosh, MN.
Obituary and Memory Wall provided by Milt's family
https://www.korsmofuneralservice.com/obituaries/Milton--S.--Yergens?obId=25791910#/celebrationWall