EXPERIENCE NDSU
Advanced nursing degree prepares student for in-demand career
Published October 2018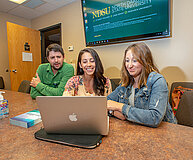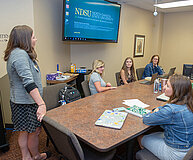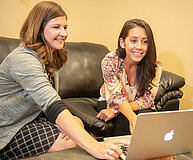 NDSU degrees prepare students for in-demand careers. Lisa Vaca is one of those students. She's preparing to save lives with an advanced nursing degree.
Vaca is enrolled in the Doctor of Nursing Practice program at NDSU Nursing at Sanford Health in Bismarck, North Dakota. It's made for nurses who want to prepare for a career as a family nurse practitioner.
"I chose NDSU because of its reputation in the community," said Vaca, who is originally from Visalia, California, and served as a hospital corpsman in the Marines. "The cost of tuition also played a part. NDSU makes it very affordable and helps students get scholarships to help with the financial burden of going back to school."
The Doctor of Nursing Practice program combines in-person teaching and distance learning from Fargo that is similar to FaceTime or Skype. Students also get hands-on training in hospitals and clinics.
Vaca spent the summer doing her clinical work in Linton, North Dakota. It's a small, but busy critical access hospital with a satellite clinic in rural North Dakota, where there is a need for health care professionals.
"There's a need for all medical positions in the rural setting, especially emergency medical responders," said Vaca. "The nursing shortage across America is an epidemic and smaller communities are more affected by this shortage."
Vaca is set to graduate in 2020 and is interested in continuing her work in rural areas. "The smaller community truly makes you feel welcome and there is need a for providers," said Vaca.