INSPIRING TEACHER
Alan Kallmeyer, professor and chair of mechanical engineering
Published November 2018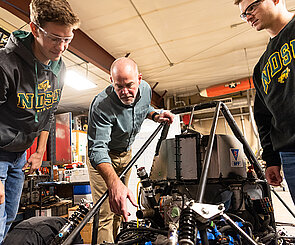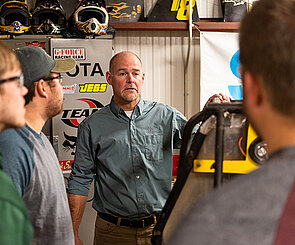 Alan Kallmeyer is a highly respected instructor and mentor who teaches a variety of mechanical engineering courses. He also mentors several senior design group projects each year, where students solve real-world design problems.
Many of those projects are sponsored by industries. Some are proposed by faculty researchers. Others are based on national design contests, such as the Society of Automotive Engineers' Baja Car, Formula Car or Clean Snowmobile competitions.
Kallmeyer has received many honors for his teaching, including the NDSU chapter of Pi Tau Sigma's Carnot Award for Excellence in Teaching in Mechanical Engineering eight times, the college's Teacher of the Year in 1999 and the NDSU Mortar Board Society's Preferred Teacher Award. He was nominated for Carnegie U.S. Professor of the Year in 2005.
WHAT DO STUDENTS LEARN FROM THE SENIOR DESIGN PROJECTS?
Over a two-semester period, the students must complete the technical design and analysis of a product, build a prototype and test or validate the design. They gain hands-on experience in project planning and management, application of engineering design and analysis principles and prototype development and testing.
HOW DID YOU DECIDE TO PURSUE YOUR PROFESSION?
My father was an aerospace engineer who designed aircraft, spacecraft and missiles for defense. I was always fascinated by the accomplishments of his generation. They put a man on the moon using ingenuity, creativity and slide rules. He inspired me to become an engineer. When I completed my undergraduate degree in mechanical engineering, I became interested in pursuing a research-oriented career, so I applied to graduate school with the goal of going into academia. I have never regretted that decision.
WHAT DO YOU LIKE BEST ABOUT TEACHING?
I love the interaction with students. I never cease to be amazed by the intellectual capacity of our students. They are bright, inquisitive and creative. My favorite times in the classroom are when students ask me a question that I don't know the answer to, because that reminds me that I don't know everything about the subject I'm teaching. It's a continual learning process for all of us, and I enjoy going back to the books to find the answers to those questions. I enjoy being challenged by our students.
HOW WOULD YOU DESCRIBE YOUR TEACHING STYLE?
I enjoy having discussions in class, and I particularly like to highlight the relevance of the subject to real-world applications. For example, I like to bring up case studies of well-known structural failures because it emphasizes the importance of what we are discussing in class. I go through a lot of examples in my classes, and I encourage students to participate and ask questions, and I often pose different scenarios to make them think about alternative solutions.
WHAT HAS BEEN THE BEST MOMENT OF YOUR TEACHING CAREER SO FAR?
Not a single moment, but I get the greatest satisfaction when I visit with my former students who are now working in industry. I love to hear about the great things they are doing, applying the knowledge and skills that they learned at NDSU to design new and innovative products that I never would have imagined. I have watched our students become entrepreneurs, innovators, and leaders in their profession. I take great pride in watching them succeed.
WHAT HAVE YOU LEARNED FROM YOUR STUDENTS?
The importance of building relationships. Each student has their own unique story and is on their own journey. It's rewarding to get to know them as people and not just students.
Kallmeyer joined the NDSU faculty in 1995. He earned his bachelor's degree at the University of Utah, Salt Lake City, and his master's and doctoral degrees in mechanical engineering from the University of Iowa, Iowa City.