ALUMNI

Alumnus earns President's Volunteer Service Award
Published September 2016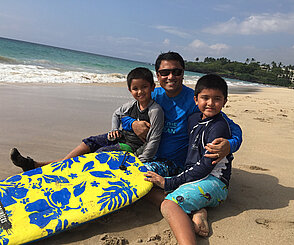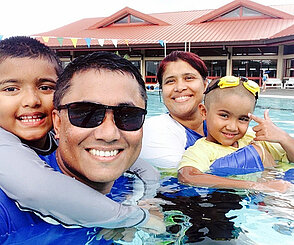 NDSU alumnus Shawon Rahman believes in helping where ever he is needed, and his outstanding service has been recognized by the President of the United States. When the mountainous Asian country of Nepal was devastated by earthquakes in 2015, he went to assist.
Rahman is an associate professor of computer science and engineering at the University of Hawaii-Hilo, and his expertise in information technology was needed to get the country back online. His efforts were acknowledged with the President's Volunteer Service Award.
Rahman, MS '04, computer science, PhD '07, software engineering, also is founder and president of TASS, a team of specialists that design innovative mobile apps and software. He has published more than 100 articles for scientific journals, books and conferences.
He is a native of Bangladesh, who became a U.S. citizen in 2013.
Tell us about your experience in Nepal.
I was in Nepal for 21 days, serving as an expert IT volunteer for the U.S. Agency for International Development, or US AID. During my stay, I experienced two earthquakes. It is kind of scary, but it's part of their daily life. I worked in the Youth and Small Entrepreneur Self Employment Fund under the Ministry of Finance. I did prototype an integrated database system and suggested some major changes to promote performance, security, safety and sustainability.
It was nice to receive a letter from President Obama, a bronze medal and a certificate. I dedicate this award to the people of Nepal who lost their precious lives in the 2015 earthquakes. May God bless their departed souls.
What do you enjoy about teaching?
My career goal is to be a successful teacher and make major contributions in my research areas. Teaching is my passion; I cannot express the feeling when I have 40 or 60 pairs of eyes following me and have students listening attentively. That feeling motivates and fascinates me.
I use recent events and real-life examples while I teach, a style I adopted from NDSU professor Ken Magel. As teachers, we must convince students why they need to learn and how it will be beneficial in their career. I care about my students and I want to make sure they can succeed in my courses.
What accomplishment makes you most proud?
I do not think I have accomplished much to be proud of yet. I am life-long learner – I learn something new every day. In the domain of software engineering and computer science, things change quickly. I conduct research primarily in cyber-security and digital forensics; it is a very fast-changing field. To be successful teachers and researchers, we have to be active learners.
How has your educational experience at NDSU shaped your career?
Overall, I enjoyed NDSU a lot. It was the most important and rewarding six-and-a-half years of my life. I was the first graduate in the software engineering doctoral program at NDSU. I received a tenured-track assistant professor position at the University of Wisconsin before defending my Ph.D. dissertation. I left Fargo on July 25, 2006.
What are your favorite memories of NDSU and Fargo?
I enjoyed fishing more than anything while living in Fargo. I used to fish in the Red River, and at Valley City, Jamestown, Watertown and Detroit Lakes. I also enjoyed Thanksgiving dinner organized by the Office of International Student and Study Abroad Services. It was a unique opportunity to learn more about American culture and values.
I did not like snow when I was in Fargo. However, I currently live in Hawaii and I really miss snow. Now, I think snow is not that bad.
I married my wife, Zinat, while I was in Fargo, so it is a very important part of my life. I will always consider Fargo my second home.
Who were some of your mentors at NDSU?
I would like to mention the late Dr. Paul Juell, Dr. Ken Nygard, Dr. Ken Magel, Dr. Suranjan Panigrahi and the late Dr. William Perrizo. Since I was an international student and my family was thousands of miles of away in Bangladesh, it was very emotional and difficult for me. These professors' love and guidance were key factors in my life.
What advice do you have for graduate students coming to NDSU?
Do not underestimate NDSU – it offers high-quality programs. My friends are now working in places like Google, Microsoft, Facebook, Amazon and Bloomberg. They are highly respected there.
Learn as much as you can and grow your personal skills. Please become a good presenter, writer, communicator and be a likeable person. Sometimes, these are more important than technical skills.
What does the future hold for you?
I would like to integrate technology to address some world challenges in the area of public health, safe water access, food supply and energy production. For example, one in 10 people lack access to safe water, and every 90 seconds, a child dies from a water-related disease. Water-linked diseases affect more than 1.5 billion people each year. I hope to make a contribution to solving these problems.
Rahman and his wife, Zinat, have two sons, Raiyan and Rafan. Zinat also is a faculty member at the University of Hawaii-Hilo, working in the mathematics department.