STUDENT FOCUSED
Annual fashion show inspires student to attend NDSU
Published June 2017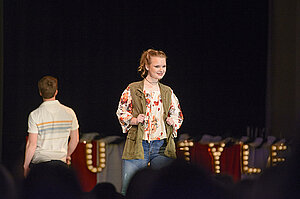 Kristin Harrington has liked fashion for as long as she can remember. A high school trip to an annual fashion show at NDSU helped her decide to pursue it as a career.
"I remember exactly where I was sitting and what I was wearing," said Harrington. "I told my mom that I'm going to NDSU, and I'm going to be a part of the show."
She enjoyed seeing the fashions and the fun the NDSU students had at the event. Harrington looked at senior projects that were on display and could see herself attending NDSU.
The student organization Fashion Apparel and Business Organization puts on the FABO Fashion Show every year and invites area high school students. One of the goals of the event is to expose students to the apparel and design disciplines that can lead to careers in the fashion industry. Nearly 400 students, faculty, staff and members of the public attended this year's show.
"Students involved in FABO develop leadership skills and learn to work as a team toward a common goal to produce a quality show," said Sara Sunderlin, faculty adviser for the group.
Various student-run committees help make the show happen. They chose "Cirque du Style" as this year's theme, which featured bold designs from students and Fargo retailers. Harrington served on the public relations, set design and choreography committees. She also modeled student-designed outfits and clothing from local stores.
"The whole experience built confidence in myself and our work as a group," said Harrington, who just finished her freshman year as an apparel, retail merchandising and design major.
The fashion show is one of many hands-on, real-world experiences at NDSU. As a freshman, Harrington was able to help plan the fashion show, take apparel classes and go on a study tour to Minneapolis to meet professionals in the industry.
"Fashion is a huge industry and has a lot of different avenues that a person can go," said Harrington.
NDSU alumni go on to become buyers, designers, merchandise coordinators and planners, product developers or store managers, among other careers.
She's still deciding on her career path, but is confident in her academic focus and excited to continue to participate in the Fashion Apparel and Business Organization throughout her time at NDSU.
"What makes my major so special is how passionate the people are about what they are doing," said Harrington. "Dedication and creativity seem to flow from every classroom, project and even outfits that people put together."