PEOPLE OF NDSU
Dana Hill, son of Professor Hill
Published October 2016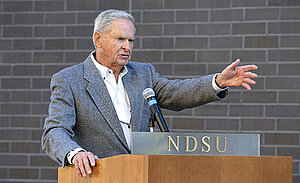 Dana Hill, BS '57, civil engineering, is the son of former NDSU faculty member A. Glenn Hill. He shared stories about his late father and his siblings at a naming dedication for the A. Glenn Hill Center as part of Homecoming 2016.
Dana said he grew up in north Fargo and was roaming around campus since he was "a little farmer," a nod to the family's agricultural background. His father was a faculty member who served in the Department of Mathematics from 1927 to 1967.
"There's a saying that if you make a living doing what you love to do, then you are truly blessed," Dana said. "A. Glenn Hill was truly blessed."
Dana looked at the 70+ family members who attended the celebration and made note about how they had gone on to earn bachelor's or master's degrees. It's part of A. Glenn Hill's legacy of the importance of education.
"In our family, it wasn't a question of whether you got an education, it was a matter of how far you went with it," Dana said.
Dana and his late older brother Glenn Keith attended NDSU. They played football together in 1954-55. Dana was the starting quarterback and a defensive safety. He recalled one play against the University of North Dakota in which he stepped in front of a UND pass and returned the interception 78 yards. Glenn Keith helped spring him free with two downfield blocks. Dana said A. Glenn Hill was cheering as he kept pace on the sideline.
Dana got caught from behind and tackled at the two-yard line. Glenn Keith looked down and said, "You have got to be the slowest Hill ever born."
Dana retired from a consultant position with the US Bureau of Reclamation and lives in Dolores, Colorado.