STUDENT FOCUSED
Doctoral student wins communication competition
Published February 2018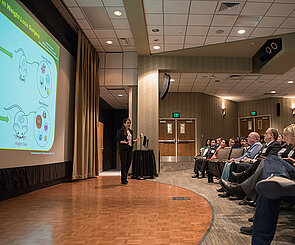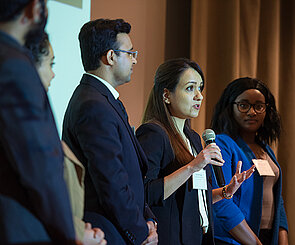 A graduate student studying results of weight-reduction surgery delivered the top presentation at NDSU's Three Minute Thesis Competition hosted by the College of Graduate and Interdisciplinary Studies on Feb 22. The competition was sponsored by Sanford Health.
Farnaz Fouladi, a doctoral student in pharmaceutical sciences, earned the $1,000 prize for her presentation titled "The role of the gut bacteria in weight loss surgery." Fouladi's faculty adviser is Kristine Steffen, associate professor of pharmaceutical sciences.
"This means a lot to me because we have been working on this project for years, and I am excited to explain it to everyone," said Fouladi, who is pursuing a post-doctoral research position for after graduation and planning a career in academia. "When I see that everyone can understand what we have done and the outcome, that makes me even more happy and excited to do continued research."
A typical 80,000-word thesis would take nine hours to present; the participants are given just three minutes. The competition features graduate students from a variety of disciplines explaining the goals and value of their research in terms relevant to government officials, media, future employers and funding organization representatives. An important point of the competition is to simplify complicated subject matter into language most people can relate to – an important skill as students seek employment.
"In the future, I'll have job interviews and I'll need to talk with people who are not in the field or don't have a background in research. This experience gives me the ability to explain in a way that everyone can understand and see what can be done in the future," Fouladi said.
A total of 40 graduate students started the initial rounds of the NDSU competition, and Fouladi was selected from a field of six finalists. The other finalists, who each received $250, included:
• Shrinidh Joshi, pharmaceutical sciences, "Designer stem cells for the treatment of diabetic complications: The future is now." Adviser: Yagna Jarajapu, associate professor of pharmaceutical sciences
• Cecilia Monclova-Santana, plant pathology, "Rust: a dry bean disease story in North Dakota." Adviser: Julie Pasche, assistant professor of plant pathology
• Seseer Mou-Danha, communication, "Nothing, nothing justifies terrorism." Adviser: Charles Okigbo, professor of communication
• Amreen Mughal, pharmaceutical sciences, "Apelin: a guardian for vascular diseases?" Adviser: Stephen O'Rourke, professor of pharmaceutical science
• Suresh Niraula, environmental and conservation sciences, "Can manure improve corn yield and reduce nitrous oxide?" Adviser: Shafiqur Rahman, associate professor of agricultural and biosystems engineering
"Our graduate students did a phenomenal job," said Brandy Randall, associate dean of the College of Graduate and Interdisciplinary Studies. "When we have an event like this, it's an opportunity for us all to come together to celebrate graduate education, and see the stellar talent that comes from all over the world to learn from our NDSU faculty and do work that is of regional and national significance."
Australia's University of Queensland developed the first Three Minute Thesis competition in 2008, and the concept has spread to institutions around the world. More than 600 universities in 63 countries now hold competitions. This is the fourth time NDSU has hosted an event.
Fouladi will go on to compete at the regional competition of the Western Association of Graduate Schools in Las Vegas on March 21.