STUDENT FOCUSED
Education students use robots to better their teaching
Published March 2018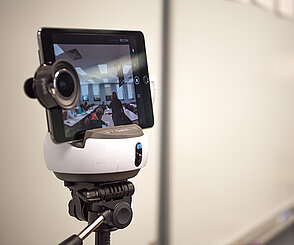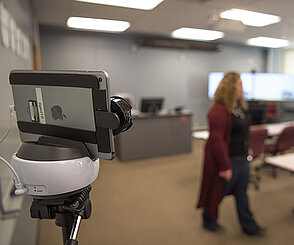 Bailey Hawbaker is in western North Dakota, student teaching in Tioga. But new technology keeps her connected to campus 352 miles away.
Hawbaker, a senior majoring in agricultural education and economics, plans to teach in a North Dakota high school after graduating from NDSU this spring. First, she's getting hands-on experience while using a robot to hone her teaching methods.
NDSU's School of Education uses Swivl robots to help prepare students for their teaching careers. The robots record students as they teach lessons and follow their movements around the classroom.
"The robot moves 360 degrees, so I'm able to move about the classroom and interact with the students without having to worry about not seeing it on the recording," said Hawbaker. "This allows me to see how well I was interacting during the class, along with how engaged the students were."
The videos upload to an online portal that is accessible at all times.
"I have been able to go back and look at the videos for clarification on how I taught a lesson, which allows me to make adjustments to my plan the next time I teach that lesson," said Hawbaker.
The robots help Adam Marx, assistant professor and adviser, too. Instead of traveling across North Dakota multiple times a semester, he's able to video conference into his students' classrooms to watch them teach lessons in real time. He can watch the recordings online and provide instant feedback.
"The Swivl robots allow me to give 'just-in-time' feedback that will improve their student teaching experience," said Marx. "It helps prepare them to have a better equipped toolbox as they step out into their own classrooms following graduation."
There are currently six agricultural education students who are student teaching throughout the state.
"The Swivl robots have been an awesome asset to our program," said Hawbaker. "I am so grateful for the opportunities that NDSU has given to me."