ALUMNI
Financial planner builds his career in his hometown of Fargo

Published June 2016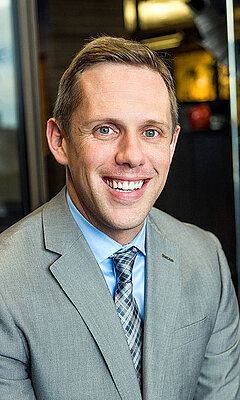 Emmett Worth is growing his career and young family in his hometown of Fargo.
His drive and determination to succeeed in the highly competitive field of banking led him to entroll in NDSU's Master of Business Administration program in 2010.
As a financial planner at Gate City Bank, he meets with individuals and businesses to learn about their overall financial situation and goals, and develops a plan to help them achieve those goals. Gate City Bank is one of the many Fargo-Moorhead businesses that rely on NDSU to meet the needs of its workforce.
"Emmett's achievement of his MBA program at NDSU has provided him with advanced opportunities to help meet the financial needs of individuals and businesses within our community," said Steve Swiontek, chairman, president and CEO of Gate City Bank. "We are proud of Emmett's success in growing his professional development and it is a privilege to have him a part of the Gate City Bank team."
NDSU's MBA program fit well with Worth's full-time work schedule and growing family. "I was also looking for a program that was challenging and went in depth on each subject. The MBA program's curriculum was thought-provoking, stimulating and broad, and improved my professional skills in a multitude of ways," he said.
The program's flexibility allowed Worth to take time off for professional and family reasons, including the births of his two children. The program is geared to working professionals, with about 70 percent of NDSU's MBA students working full-time.
His wife, Elizabeth, completed her master's degree in counseling from NDSU, where she works as a student recruitment coordinator in NDSU's Graduate School. She understands the rigors of earning an advanced degree and helped shoulder the parenting responsilbities.
Worth earned his MBA in 2016. He learned about himself as he persevered through the program. At times, the demands of his extremely busy schedule seemed somewhat overwhelming. "I stayed the course, pushed through and became stronger and better for challenging myself," Worth said.
He credits NDSU for helping him develop stronger presentation and time management skills. Collaborating with fellow graduate students enhanced his ability to work with clients and coworkers.
Worth is another example of NDSU graduates who live and work in the area. He left Fargo to earn his bachelor of business administration degree in management and a job opportunity brought him back home. He's never felt the need to go elsewhere.
He said Fargo is not only a great place to begin and further his professional career, but also to raise a family. "Fargo is a community as a whole where people take care of each other," Worth said.
He encourages students to join the workforce in Fargo. "It is a community that continues to grow and thrive. If you take a good look, I think you will find a lot of opportunity in many areas."
Giving back to his community is important to Worth. He's volunteered with non-profit organizations for the past 10 years. He assists with fundraising as a member of the United Way of Cass-Clay campaign cabinet. And he's helping to prepare the next generation with financial literacy skills as a Junior Achievement volunteer at Clara Barton Elementary School.
"I had a great experience during my time in NDSU's MBA program, and I'm better for it," Worth said.