EXPERIENCE NDSU
Engineer goes to grad school for professional growth
Published November 2018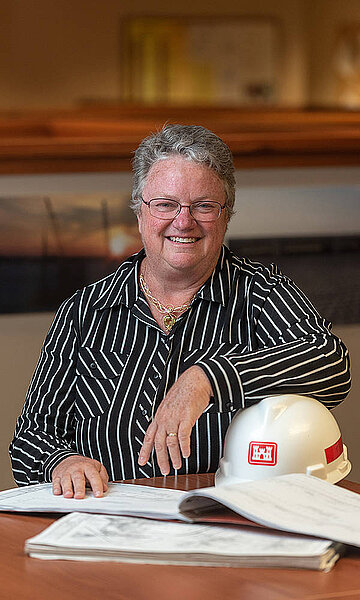 Virginia Regorrah has a growth mindset. She loves working as a resident engineer with the U.S. Army Corps of Engineers in Fargo. She's been on the job for 18 years and continues pushing herself to grow as a professional by keeping up with the latest in her field and serving as an effective mentor for junior engineers.
She is accomplishing her goals by pursuing a doctorate in construction management and engineering at North Dakota State University. The program is designed to advance technical knowledge, competence and interdisciplinary understanding and to prepare students for entering or advancing within the civil engineering profession.
"I've enjoyed the classes and the professors so much," she says. "Their willingness to explain things and their willingness to work with my schedule has been incredible. They are teaching things that are not just academic. It's benefitting me in my job on a day-to-day basis."
Regorrah started the program fall 2015 and is currently working on her dissertation. She has a demanding full-time job and a family, so the program's flexibility has been a good fit. She scheduled several classes at night and online so she wouldn't miss any family time. She rarely missed her children's activities.
She also likes the attention to each student's success. Professors welcomed Regorrah's questions and feedback, and encouraged her to visit during office hours for clarification or guidance.
She is already an experienced professional, overseeing multimillion-dollar projects in the region, including the Fargo-Moorhead flood diversion. Yet continuing her education gives her additional tools to keep growing. "A lot of things I was taught can be directly applied to my work every day," she says.
Regorrah has already taught a few courses at NDSU and other colleges in the area. However, a doctorate from NDSU will allow even more opportunities to share what she's learned. Teaching more classes will help her grow as mentor to young engineers.
Regorrah's life focus is personal and professional development. As a curious kid, she wanted to know how to build things. The search for knowledge continued as an undergraduate and graduate student at the University of Hawai'i at Mãnoa and as an officer in the Army. She learned. She grew. She felt fulfilled.
Those pursuits never stopped, even when life was packed with work, travel and family. She always found time to learn. She pursued a master's degree while she was the corps' resident engineer in Grand Forks, North Dakota.
That same drive is what led her back into the classroom to get her doctorate at NDSU. "Every opportunity to open a book is an opportunity to gain more information," Regorrah said. "Studying is something I love to do. And I loved studying at NDSU."
Continue your professional growth with a graduate degree at NDSU.