INSPIRING TEACHER
Kristen Benson, associate professor of human development and family science
Published September 2016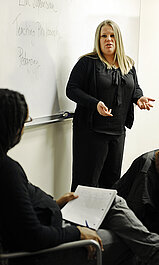 Kristen Benson is a leader in family therapy and family science. Her excitement and passion for teaching, research and mentoring inspire her students. She was nominated as an inspiring teacher by one of her students.
What do you teach?
I currently teach in the Couple and Family Therapy graduate program and the undergraduate Human Development and Family Science course Issues in Sexuality. I love being a faculty member.
How did you decide to pursue your profession?
I took classes on family systems and helping professionals as an undergraduate student at Florida State University. One of my teaching assistants was a family therapy doctoral student, which I had never considered, but soon realized was the perfect profession for me. I went on to earn graduate degrees and I am now a licensed marriage and family therapist. I have always been drawn to address social justice with families. I now get to teach topics I love and also conduct research in ways that promote increased support for marginalized families.
What is your favorite class or topic to teach?
I enjoy teaching about sexuality. It's a topic that is relevant to every person, yet so many people are misinformed and uncomfortable talking about it. Sexuality is related to health, religion, family, culture; it is complex and often complicated. Talking about sexuality in the classroom allows students a place to explore what they believe, what they have learned, what is based in evidence or ideology and what they would like to know. It is fascinating to bring together 40-50 students from diverse backgrounds, experiences and beliefs to talk about sexuality, which includes issues that are often socially divisive. The students continue to impress me with their willingness to engage in the material and challenge themselves to consider perspectives that may differ from their own.
What's the biggest obstacle you've had to overcome as a teacher?
I think the biggest obstacle continues to be working with students to be confident in their unique ideas. This is especially relevant to undergraduate courses where students' educational experiences have focused on memorization. They then have to learn how to grasp concepts related to the course and make sense of it. It can be a challenge to shift from memorizing the right answer to conceptualizing and developing their answer.
How do you know you've succeeded with a student or a class?
I believe I am successful when students are able to demonstrate their ability to think critically about the world we live in. I want students to know why they believe what they believe and how those beliefs shape their relationships and professional endeavors.
What have you learned from your students?
My students continue to teach me how to be a teacher. They come to learning environments with ideas and beliefs, and together we read, discuss and make sense of course material. I have the wonderful experience this semester teaching a course on teaching and supervising couple and family therapy to doctoral students. We focus on approaches to student engagement and ways to create inclusive learning environments. We are teaching and learning about teaching and learning. The doctoral students' energy is extraordinary.
What is your favorite film or book featuring a teacher?
"Pedagogy of the Oppressed," by Paulo Freire and "Teaching to Transgress: Education as the Practice of Freedom," by Bell Hooks. These texts have been instrumental in my own development as an educator as they are based in the idea that education is liberation. These books fill me with excitement and hope about teaching and learning.
What is your favorite NDSU tradition?
This is my own NDSU tradition: Every year during move-in weekend in August, I either walk my dog, bike or at least drive through campus. I absolutely love seeing the new freshman out and about on campus, walking in groups with new friends that they likely just met in their residence halls and experiencing adult freedom for the first time. I think about how significantly their lives will change over the next few years. It connects me to an excitement about growing up and engaging in higher education.
How are you #NDSUtrue?
When I attended the National Council on Family Relations conference, I proudly stated that I work at NDSU. As I presented research and attended workshops, several colleagues from various institutions around the country commented on the strong presence of NDSU faculty and students, and the quality research coming out of our department. I am excited about the work we do at NDSU. It makes me #NDSUtrue.
Benson joined the NDSU faculty in 2007. She earned her bachelor's degree at Florida State University, master's degree from Appalachian State University and doctorate at Virginia Polytechnic Institute and State University.