COMMENCEMENT
Lab experiences inspire graduate to become cancer researcher
Published May 2016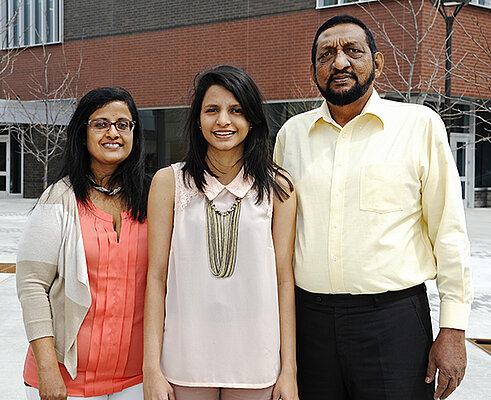 Pamoda Galhenage's career goals crystalized in laboratories at North Dakota State University. She wants to help cure cancer. And the experience gained through research opportunities on campus could help put her in position to achieve her dream.
Galhenage will receive a bachelor's degree in biological sciences on May 14. She is an example of undergraduate and graduate students who work on world-class research projects that could provide solutions to some of the world's biggest problems.
"Having the ability to contribute to major research really sets you apart when you enter the industry," said Galhenage, who is from Sri Lanka. "I already have three-and-a-half years of experience in a lab. That's really going to help me on my resume."
Galhenage started working in a lab her freshman year. She originally planned to become a doctor, but changed her focus because of the research experience. She was excited about the lab work and the chance to work with top researchers in biological sciences.
She's passionate about being a scientist. She values her time spent looking through a microscope, trying to find ways to move research forward. These are the moments when breakthroughs happen.
This school year, Galhenage joined a large research project looking at early diagnosis and treatment of pancreatic cancer. The project belongs to a group in the College of Science and Mathematics and the College of Health Professions, which recently received a grant of up to $9.62 million to establish a research center on campus.
The research sparked Galhenage's desire to help wipe out cancer.
"We've been very impressed with how encouraging people have been with our son and daughter when it comes to research and other activities," said Pamoda's father, Rupadeva Galhenage. "We are very happy and proud that both of our children received such a good education at NDSU."
Galhenage plans to attend graduate school and eventually have a career in cancer research. "I'm really proud of all the hard work that I've put in the last four years," Pamoda said. "It's very special that my mom, dad and brother can be there to see me graduate. Four years went by really fast."