NEWS
NDSU and Fargo Park District bring new art downtown
Published August 2018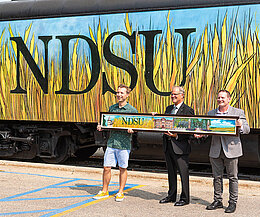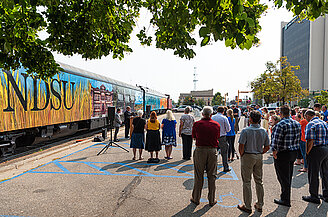 North Dakota State University and the Fargo Park District collaborated on a new art installation downtown. It was introduced Monday, Aug. 13, at the Northern Pacific Depot.
A train car is wrapped with the artwork, which depicts popular sites on the NDSU campus, including the university gate, bison statue, Minard Hall and Old Main clock tower. It also shows wheat, the symbol of the university's land-grant mission to serve the citizens of North Dakota, and the rolling fields of the state's landscape. Fargo artist Steve Knutson created the artwork.
NDSU President Dean L. Bresciani and Fargo Park District Executive Director Joel Vettel spoke of the strong relationship between community and university and how they have grown and matured together.
"Fargo, at its core, is a tight-knit community, but what complements that is having one of the top 100 research universities in the nation here and almost 15,000 students that we bring to the community because of our academic expertise, the excitement that NDSU athletics brings to the community – and sometimes this the glue that brings us together – and having three major academic facilities in the downtown area," Bresciani said. "I think most people recognize that has catalyzed what has become one of the most vibrant, exciting, youth-oriented downtown areas, and quickest growing areas, not just in North Dakota, but literally the nation."
Vettel, an NDSU alumnus, said, "It's the collaboration and partnerships that we have each and every day that make this community so great, so wonderful. Both of our institutions, the Fargo Park District and North Dakota State University, have been serving this community for over a 100 years, over a century of commitment to making lives better. And we do that together; we do that through cooperation and collaboration of efforts to make sure we bring quality of life to the people we serve."
The train car artwork is visible from Main Ave. It was digitally printed on 20 vinyl panels that are 54 inches wide and protected with laminate. The train car is 90 feet long and 8 feet high. The installation began Tuesday, Aug. 7, and took two days to complete. It will remain in place for three years.
Knutson's artwork is displayed in various businesses and galleries in North Dakota and across the U.S. He teaches art at Discovery Middle School in Fargo, where he lives with his wife and two children. He also created the artwork for the original Fargo train car to the east of the NDSU-themed car.
"When you look at public art, when you look at art in general, we have the ability to change minds and change hearts," Vettel said. "And when I look at these two train cars right now, they are not only a symbol of great art, they are a symbol of the cooperation and collaboration we have in our community."