ALUMNI
NDSU grad leader in cardiovascular medicine at top med school
Published April 2018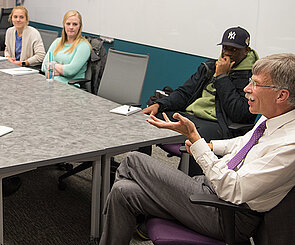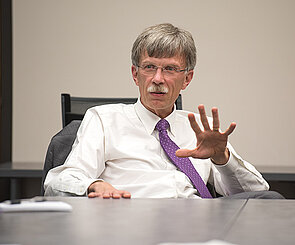 Dr. David A. Foley is the 2017-18 distinguished alumnus for the College of Science and Mathematics. He is a 1981 graduate with a bachelor of arts with honor in zoology.
He is a cardiologist, echocardiographer and internist at world-renowned Mayo Clinic, Rochester, Minnesota. He's also a consultant in the Department of Cardiovascular Disease and the chair of the Division of Comprehensive Cardiology and the Division of Community Cardiology at the Mayo Clinic School of Medicine. His interests include the application of new echocardiographic imaging.
The Mayo Clinic School of Medicine was tied for No. 6 in U.S. News and World Report's ranking of top research medical schools in the country for 2019.
Foley met with students, faculty and administrators during his visit to campus on Nov. 7, 2017.
HOW DID YOU CHOOSE NDSU?
A few of my high school buddies and I decided to visit to NDSU because they were very interested in engineering, and the University of Minnesota felt too big for me. It was the dead of winter and I could swear there wasn't a single tree on campus when I came to visit. I realized later this is a very pretty campus. We sat up in the fieldhouse comparing notes before we went home and each of us was impressed with NDSU. I think six from my high school class ended up coming to NDSU. We talked about what we had seen and all of us agreed it was a great fit for us.
WHAT WAS YOUR PATH TO MEDICINE?
I told them that people always used to ask me if I was interested in going into medicine. I repeatedly said 'no.' I loved the outdoors and thought I might go into the forestry domain. I had a scholarship to go into education when I came to NDSU. It wasn't until late sophomore year that I became interested in medical school. It was my life experiences here at NDSU that pushed me onto that path. I really enjoyed the classes and the science, realized that I needed to be doing things as well as teaching. I took a job in an NDSU research laboratory after taking Zoology 101 and that work initially hooked me. Things have evolved since then. I now really enjoy patient interactions and helping patients fix their problems.
HOW DID YOU CHOOSE CARDIOLOGY?
Just out of medical school, my first rotation was cardiology. It was very busy and I had some great mentors. I finished with some vacation right around Christmas Day. I walked home in the snow, got my cross-country skis and headed to the park. As I was walking, I thought to myself 'that wasn't so bad, I could be a cardiologist.' I enjoyed the work and saw the variety of things cardiologists were doing. They had a lot of advancements in the area at that time.
WHAT DID YOU LEARN AT NDSU THAT HELPED YOU SUCCEED IN YOUR PROFESSION?
My introduction to research was key because it not only padded my resume as I was applying to medical schools, but also gave me the opportunity to teach. My professors allowed me to participate in education. At first, I was a teacher's assistant, then I supervised the other teacher's assistants. Teaching is still a very important part of what I do. I attained a lot of skills I was able to use throughout my career, whether it's education, research or even a little bit of administration. The other part of the curriculum that I can't emphasis enough was my participation in the Scholars Program with Catherine Cater. It allowed me to explore a lot of ideas and heighten my education.
WHAT ADVICE WOULD YOU GIVE INCOMING NDSU STUDENTS?
Get a broad-based education as much as possible. Don't ignore the humanities at the expense of science. When I first graduated, I was a little dismayed that I had a Bachelor of Arts rather than a Bachelor of Science degree. But I look back on it now with pride. I'm glad. It says I had more education in the humanities and have a very well-rounded education. Students should also get involved. Volunteer at your local nursing home; it can be very eye opening but it will serve you well. Take any opportunity to get out and volunteer.
Foley is from Wadena, Minnesota. He earned his medical degree from Mayo Clinic School of Medicine. He is certified in internal medicine, cardiovascular diseases and adult transthoracic, plus transesophageal echocardiography.