RESEARCH
NDSU researcher earns major award for fossil study
Published June 2017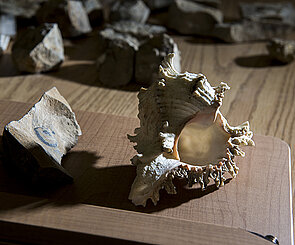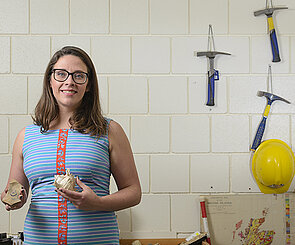 An NDSU assistant professor is conducting research that could pinpoint when and why some marine predator and prey groups evolved more than 200 million years ago. And some NDSU students will help.
Geologist Lydia Tackett has received a $512,000 National Science Foundation CAREER award to study the role of predator-prey interactions in building modern ecosystems during a time of dramatic environmental change. The research could help unlock the internal and external reasons for the physical features of predators and prey, helping scientists better understand when and why some marine life developed certain characteristics.
The CAREER program recognizes junior faculty members for outstanding research, excellent teaching and the ability to combine education and research to further the mission of their university.
"We'll be carefully examining evidence about a topic not much is known," Tackett said. "It's very exciting to get students involved in that."
Tackett's research will focus on information fossils can unlock about the time and reason ocean predators and prey developed traits which helped them hunt for food or defend themselves from danger. Many marine predators at the time developed shell-crushing behavior, which forced prey to develop a defense or face extinction.
Tackett previously has studied the topic on a smaller scale. However, the CAREER award will help fund two trips to New Zealand over the next five years to gather valuable new information on a wider variety of Late Triassic marine animals. The Late Triassic period was the first of the Mesozoic Era and occurred between 250 million and 199 million years ago. Many of the first dinosaurs developed during this period.
A group of NDSU students will accompany Tackett to New Zealand in 2018 and again in 2020.
Students from North Dakota tribal high schools will develop research projects which look to solve environmental problems using the skills learned as part of Tackett's study. NDSU undergraduate students will mentor the high school students.
Tackett said students will play a vital role in the research, and will come away with valuable knowledge that could help push them forward in geoscience research.
"The last time I brought an undergrad on a project he ended up developing his own research, presenting a poster, writing a manuscript for a journal and has since entered a doctoral program," she said. "This type of work can serve a very important purpose for students."
Tackett's research is funded by Award No. 1654088 from the National Science Foundation.