STUDENT FOCUSED
New graduate is prepared for career
Published August 2017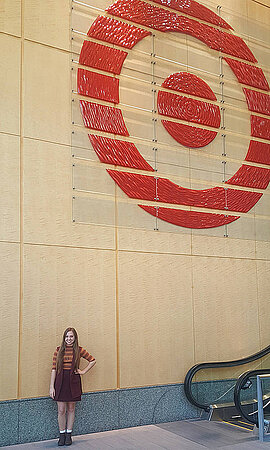 Recent graduate Keyona Elkins is from Dickinson, North Dakota, and majored in apparel, retail merchandising and design. She started her career as an associate technical designer at Target Corp. this summer.
Why did you choose to attend NDSU?
It was close to home and had a fashion program that offered a lot of industry opportunities and a good mix of classes.
Why did you choose your major?
I've always loved fashion, so going into this field was a no-brainer for me. There was never anything else I really wanted to do. I'm so passionate about this industry and interested in many different aspects of it. Coming into college, I had my heart set on being a market editor for a fashion magazine, but the program really opened up many other career options.
What did you like best about your major?
The apparel, retail merchandising and design program gave me so many opportunities to gain great experience and learn about the industry. I got to create window displays for a local store, put on the FABO fashion show, attend study tours all around the country, hear from guest speakers with various careers and volunteer at local fashion-centered events. I gained so much great knowledge through the program and I'm using a lot of it in my new job. Getting that experience straight from the real world was definitely invaluable.
Favorite NDSU memory?
I was a coordinator of the annual FABO fashion show my senior year and it was such a challenging, fun and formative experience. The day of the show, when everything came together and I saw all of our hard work pay off, I had never been prouder. It was so rewarding.
Any advice for incoming/current students?
Get involved right away. Just dive right in to anything that interests you and you'll get a lot more out of your NDSU experience.
How do you think NDSU helped prepare you for your career?
I'm already using so much knowledge from classes in my job at Target. I feel so much more prepared and capable starting this job because I'm pulling from everything I learned over these past four years. My internship and teaching assistant job during college also really helped prepare me for my career.
What is your job at Target?
Associate technical designer. I work on a new women's clothing brand that was just announced called A New Day. My job focuses on writing product specifications to get all the details right and making sure each garment has a great fit on the guest's body.
How has the transition been?
It's been so great. Everyone I work with is so nice, encouraging and helpful and really wants me to succeed. They're really encouraging me to question things as the newbie and learn as much as possible while I get trained in. There is a lot of change going on at Target right now and I'm even working on a new brand of women's apparel, so it's an interesting time to come into the company. The culture at Target is phenomenal. I'm really loving it so far.