STUDENT SUCCESS
Student Innovator: Caitlin Johnson
Published March 2016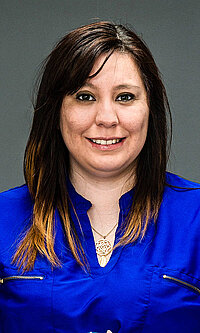 Graduate student Caitlin Johnson is among 13 NDSU students selected to participate in the Clinton Global Initiative University in Berkeley, California.
The initiative challenges college students to address social issues with practical, innovative solutions. Each participant develops a new, specific and measurable plan to address the societal need they have identified. Only about 1,000 students around the country are invited to the conference.
Program: Ph.D., adult and occupational education
Hometown: Belcourt, North Dakota
Her project: Her non-profit, ND AuSome Narratives Educational Program, works with Native American children with autism, their parents and teachers. The program teaches parents to use oral narratives to develop language skills in autistic children and helps educators identify possible autism in students.
Effect on society: "Autism is the fastest growing serious developmental disability in the United States. Our target populations are Native American parents and teachers who do not have the resources available to them due to the geographical area and poverty. My goal is to educate the community and help our children see a brighter future."
Next steps: "I plan to host an awareness walk on the reservation this summer and hope to start a professional development series for educators on the reservation. I want to continue to work with my non-profit organization, while also teaching in higher education. I love helping people, working with indigenous populations and teaching. I want to continue having the best of both worlds."