INNOVATION
Student Innovators: Jesse Riley, Alexis Steinman and Jade Monroe
Published June 2016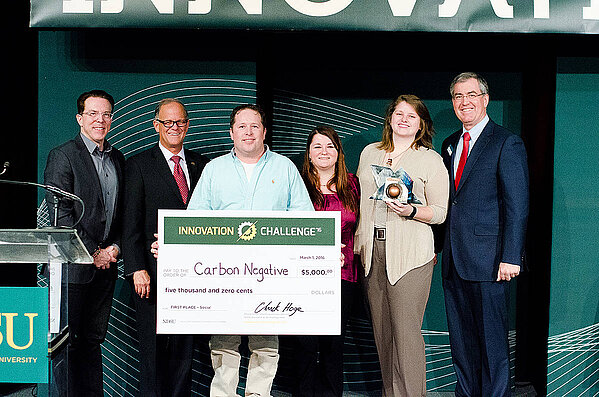 NDSU students Jesse Riley, Alexis Steinman and Jade Monroe won first place in the Social category at this year's Innovation Challenge.
The competition is open to all NDSU undergraduate and graduate students and features four categories: Health, Products, Services or Social. Students are empowered to think, create and present their innovative ideas.
Program: Natural resources management
Hometown: Riley – Milwaukee, Wisconsin
Steinman – Bismarck, North Dakota
Monroe – Faulkton, South Dakota
Their project: Carbon Negative is a system to reduce carbon emissions, create new revenue streams and enhance ecosystem services using natural prairie grasses.
Effect on society: "We would like to see an improvement to community health, the local environment and to see more citizens of Fargo enjoy the outdoors. We would also like to see the benefits of prairie vegetation serve the local community through the natural ecosystem services these plants produce."
Next steps: "We're constructing a project proposal for the City of Fargo, including detailed information on the economic, political and social feasibility of this system. Ultimately, our goal is to make this system a reality in the next decade."