EXPERIENCE NDSU
Students learn while serving the community
Published November 2018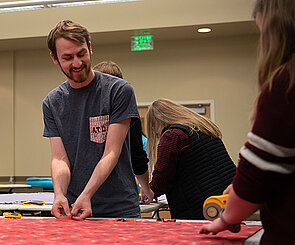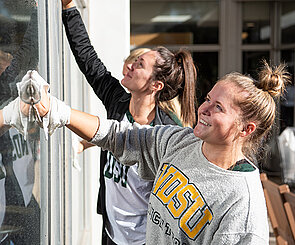 NDSU students spend thousands of hours each year giving back to the Fargo-Moorhead community while also developing skills that will serve them well in life and career. One example is the Serve with the Herd event held during Homecoming, which gave students a chance to volunteer around town.
Nearly 100 students volunteered at 10 locations. Places included thrift stores, retirement communities and an adoption agency. Students washed windows, weeded gardens and made blankets for children in crisis.
"I find that any volunteer work always gives me a sense of bliss," said Emily Lucus, a junior studying hospitality and tourism management from Lakeville, Minnesota. "I can go out and do something valuable with my time that benefits others, even if it's some simple cleaning jobs."
Marisa Pacella, student body vice president, values service and sees volunteer opportunities at NDSU as an enhancement to her education.
"Patience, kindness, humility and other such traits are not easily learned, except through real-life experiences, which service can provide," said Pacella, a hospitality and tourism management major from West Fargo. "Partnering a relevant service opportunity with your major's curriculum can open doors previously unknown to you. Service allows you to grow, but more importantly, it allows the community to grow."
NDSU provides students many outreach opportunities through the Volunteer Network. The student staff works closely with nonprofit agencies to identify service opportunities that not only meet the needs of the community, but match students' interests and skills.
"Service gives students a chance to learn more about the community and the needs of those in our community," said Nicole Askew, coordinator for Campus Activities. "It can really show students the influence they can have on the lives of others, while also growing as individuals themselves."
NDSU students recorded more than 8,000 hours of service during the 2017-18 academic year.