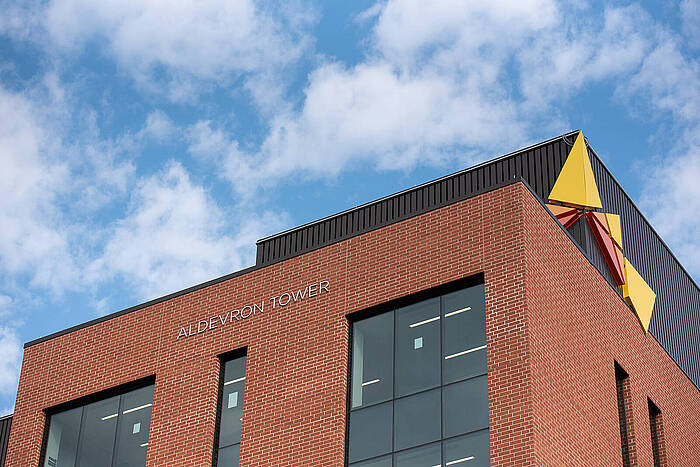 A virtual dedication ceremony for NDSU's new Aldevron Tower is scheduled for Friday, Oct. 2, at 10:30 a.m. The event can be viewed on NDSU's main Facebook page.
The privately-funded $28 million Aldevron Tower is the home of NDSU's College of Health Professions. It is a six-story, 74,000-square-feet structure featuring the latest technology and teaching facilities.
Scheduled speakers during the virtual event include:
• John Ballantyne, chief scientific officer and Aldevron co-founder
• NDSU President Dean L. Bresciani
• Michael Chambers, founding CEO and executive chairman of Aldevron
• Jeanne Frenzel, professor of pharmacy practice
• John R. Glover, president/CEO of the NDSU Foundation
• Kevin Hanson, president/CEO of Gate City Bank
• Theresa Larson, vice president of nursing at Sanford Medical Center, Fargo
• Lauren Nordberg, pharmacy student
• Charles D. Peterson, dean of the College of Health Professions
The College of Health Professions educates future pharmacists, nurses, respiratory therapists, radiologic technologists, sonographers, medical laboratory scientists, pharmaceutical scientists, health services and public health professionals.
"Aldevron Tower's design promotes interprofessional education involving pharmacy, nursing, allied sciences, and public health disciplines," said Peterson. "Students learn to work together in a setting that prepares them to be team-ready and practice ready prior to joining the healthcare workforce. Our commitment to graduate the highest quality health care professionals in the region requires the highest quality facilities to make that happen."
Some of the Aldevron Tower's many educational features include:
• Concept Pharmacy and North Dakota Pharmacists Association Instructional Lab
• Simulation Suite with trauma bay, birthing suite, hospital rooms and nurse station
• Simulated USP 797 compliant sterile compounding laboratory with ante room
• Non-sterile compounding laboratory with high-temperature dishwashers
• Home health apartment
• Three debriefing conference rooms with recording technology
• Telehealth/telepharmacy for providing care to rural communities
"Philanthropy is vital in facility projects like this," said Glover. "The benefactors who supported Aldevron Tower know that in order to go out into the world prepared, NDSU student must learn, work and perform in 21st century environments. Their gifts helped enhance the way education happens so that every NDSU student, faculty member and staff member can thrive."
As a student-focused, land grant, research university, we serve our citizens.