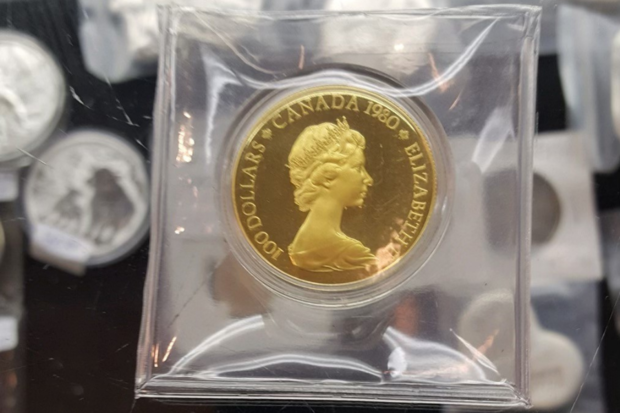 NDSU students collected $7,346.57 during the 10th annual "Battle of the Cents-es" event for an NDSU graduate battling a rare and aggressive form of cancer. The fundraising competition, which pits student ambassadors from the College of Engineering against student ambassadors from the College of Health Professions, was held March 23-26.
The money, including the anonymous donation of a rare gold coin, will benefit Jordyn Meskan, a 25-year-old with a degree in civil engineering and a minor in Spanish. After noticing unexplained swelling on her leg in 2019, she met with several doctors and was diagnosed with alveolar rhabdomyosarcoma.
Meskan started her treatments at the beginning of the COVID pandemic, and she continues to fight after going through multiple rounds of chemotherapy, radiation treatments and surgery.
Students collected donations at booths in the engineering complex and Aldevron Tower and online through Venmo. Teams earn positive points for change or Venmo donations. Paper bills are subtracted from each group's point total.
"Gathering all the money together was mind blowing," said Julia Arntson, an NDSU College of Engineering Ambassador. "I struggled carrying the bags of coins to my car and into the bank. I had to make two trips. When the bank teller was counting the money, Anna Skarphol and I were getting more excited the more it added up. It's such a heart-warming feeling knowing you contributed to such a big outcome, and the money raised will positively impact Jordyn's journey."
"The opportunity to work together with other students to plan an event that benefits a former Bison was incredible," said Anna Skarphol, an NDSU College of Health Professions Ambassador. "Seeing people be generous with the resources they have available to them -–whether that be a handful of spare change or a rare coin worth $900 – was a rewarding experience."
The College of Engineering earned the most points during the event, but the College of Health Professions collected the most money, including more than $2,200 in cash given by College of Engineering supporters that counted as negative points in the competition.
"I am beyond proud of the College of Health Professions Ambassadors and the College of Engineering Ambassadors for taking on the challenge of planning and carrying out a massive fundraising event for one of their own amid a global pandemic," said Dana Davis, adviser to the College of Health Professions Ambassadors. "They were innovative and creative in figuring out ways to promote and engage participants safely, both on and off campus, and their hard work absolutely paid off. I think that speaks volumes about how much members of the Herd care for one another."
When all the coins, bills and Venmo donations were counted the totals looked like this:
College of Engineering (2980.73 Points)
•Venmo - $1246.01
• Coins - $1,290.72
• Cash - $401
College of Health Professions (-980.16 Points)
• Venmo - $1057.99
• Coins - $233.85
• Cash - $2,272
As a student-focused, land-grant, research university, we serve our citizens.