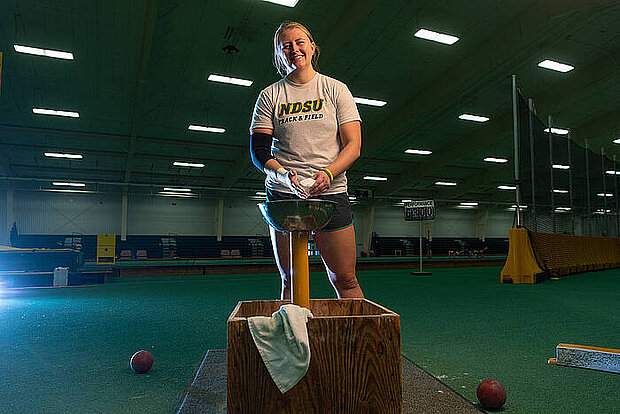 NDSU track and field All-American and Academic All-American Shelby Gunnells has been named one of the Top 30 honorees for the 2021 NCAA Woman of the Year Award.
Selected from 535 school nominees — a group that was then narrowed to 154 nominees by conference offices — the Top 30 honorees include 10 from each of the three NCAA divisions. All have demonstrated excellence in academics, athletics, community service and leadership.
"We are thrilled to recognize the 30 honorees selected this year," said John Kietzmann, chair of the selection committee and associate director of athletics for marketing at Metropolitan State University of Denver. "These women excelled in the classroom and competition, while still prioritizing serving their peers and communities despite the challenges they faced during the pandemic. They represent the thousands of women competing in college sports each year, and we congratulate them for their incredible achievements."
Gunnells was a 2020 U.S. Track and Field and Cross Country Coaches Association first-team All-American in indoor shot put and earned second-team honors in 2021 (outdoor) and 2019 (indoor). She ranks in the top 10 in school history in four events and was a 2020 Olympic trials qualifier. She is a three-time CoSIDA Academic All-American for track and field, earning first-team honors in 2020 and 2021.
Gunnells was a 2021 recipient of the Elite 90 Award, presented to the student-athlete with the highest grade-point average competing at an NCAA championship finals site. She received a 2021 National Science Foundation Graduate Research Fellowship and earned NDSU's Allan C. Ashworth Scholarship as the top senior geology student in 2019 and 2020.
The selection committee will determine the top three honorees in each division from the Top 30, and the nine finalists will be announced this fall. From those nine finalists, the NCAA Committee on Women's Athletics will choose the 2021 NCAA Woman of the Year.
A virtual awards ceremony is scheduled for Tuesday, Nov. 9, when the Top 30 honorees will be celebrated and the NCAA Woman of the Year will be named.
As a student-focused, land-grant, research university, we serve our citizens.