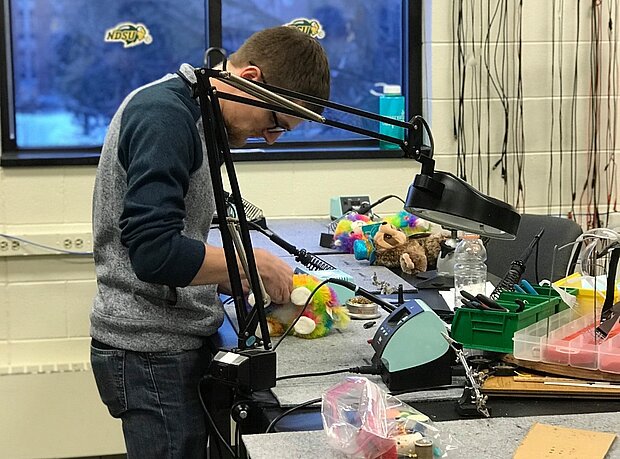 NDSU's Disability Services, Department of Electrical and Computer Engineering and Eta Kappa Nu Honor Society are working together to make the holiday season more enjoyable for children of all abilities.
Playing with off-the-shelf toys is often not possible for children with physical and motor disabilities, depending on their unique abilities. However, toys can be modified so the original switches are rerouted to a larger switch that is more accessible and easy to operate.
Toy modifications are scheduled during the third annual Toy Adaptathon at NDSU on Thursday, Nov. 18, starting at 3 p.m. Switch modifications will be made in the Electrical and Computer Engineering building's room 203 and 205. Parents, families and friends of children with physical and motor disabilities are encouraged to drop off their switch-activated toys at NDSU's Main Library or Disability Services.
"We have several student volunteers, using the skills learned in the classroom, committing their time to adapting toys for children with disabilities in our area," said Mark Coppin, NDSU Disability Services director. "Our goal is to make toys accessible to all this holiday season."
Donations from the public also are requested for the families who cannot afford switch-activated toys for their children. Donations can be arranged by emailing ndsu.disability.services@ndsu.edu.
NDSU is partnering with area therapy groups to distribute the donated toys, but also encourages suggestions for any child in need of an adapted toy.
As a student-focused, land-grant, research university, we serve our citizens.