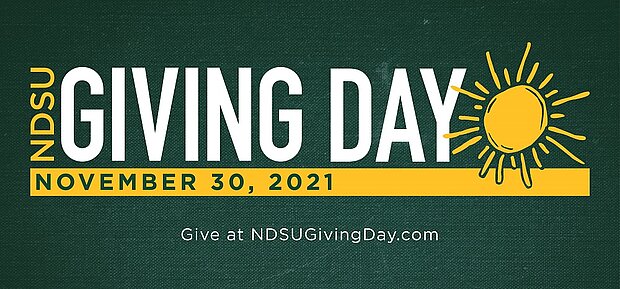 NDSU's sixth annual Giving Day is Tuesday, Nov. 30. The online, grassroots fundraising campaign is a one-day opportunity to invest in students and enhance the NDSU experience. NDSU alumni and friends have committed more than $1 million in matches and challenges ahead of the event on Giving Tuesday.
"Gifts on Giving Day support the next generation of leaders, and as a land-grant institution, the impact extends beyond campus and touches the state, region and world," NDSU President Dean L. Bresciani said. "Thanks to our generous alumni and benefactors for supporting our students and campus community in record numbers year after year. Together, we can build a brighter future for NDSU and beyond."
Every gift made on NDSU's Giving Day will also count toward the In Our Hands campaign, which has already raised more than $450 million to support student scholarships, faculty research, student-focused programs and enhanced facilities at NDSU. The campaign, which is the largest in the history of higher education in North Dakota, concludes Dec. 31, 2021.
"Time and time again, Bison nation shows up and demonstrates that they care about our university and our students' success," said John Glover, NDSU Foundation president and CEO. "By making a gift on Giving Day, you can help advance NDSU's mission and create new opportunities for students in the areas of campus that are most meaningful to you."
Sierra Nguyen, a junior enrolled in NDSU's accelerated Master of Public Health program from Rochester, Minnesota, has been impacted by gifts made on Giving Day. She is the first recipient of the Janice Haggart Microbiology Scholarship, which was supported by Giving Day funds from 2020. She is currently paying for two degrees — her undergraduate degree in microbiology and her master's degree in public health.
"Earning a scholarship is a sign that my hard work is paying off," Nguyen said, "and it motivates me and pushes me to do better in school."
In 2020, NDSU alumni, friends, faculty, staff, parents, and students raised a record $1.3 million to support the university on Giving Day. The day of giving also secured a record 1,700 unique gifts in 2020.
Gifts will be accepted online from 11 p.m. CST Monday, Nov. 29, through 2 a.m. CST Wednesday, Dec. 1.
As a student-focused, land-grant, research university, we serve our citizens.